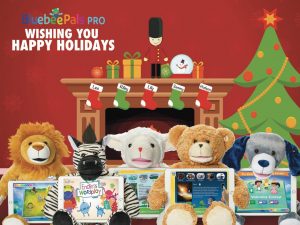 The iMums wanted to share some of our Christmas and holiday themed app favorites with you. Below is a short summary of each of the apps along with links to our reviews as they have been completed. We hope that you will enjoy these apps as much as we have with our families. Many of these are ones we load onto our devices year after year to enjoy – and some stay on all year round! In our family, we pick a new holiday themed book to read every night – these are some of our digital favorites among The Mums. Come visit us at The iMums for more great tech and app reviews! Looking for more great app reviews – check out this page on Bluebee Pals. Reading with our kids is one of the favorite things to do with our iKids.
The iMums Christmas apps #1
Charlie Brown Christmas by Loud Crow Interactive is a real taste of nostalgia – featuring both the pictures and audio from the classic Christmas movie, with the addition of narration by Peter Robbins, who was the original voice of Charlie Brown. You can switch the narration on or off and the text is highlighted as it is read. The original music from the movie plays in the background and a nice feature is that you can control the music volume independently of the narration. Version 2.0 of the app added the director's cut as a free in-app purchase. I would recommend installing this before starting to use the app as it adds 4 scenes, 2 activities and an extra carol. Read iMum Mary's review
A Charlie Brown Christmas + iMessage Sticker Pack! – Loud Crow Interactive Inc.
The iMums Christmas apps #2
The Bernstein Bears and The Nutcracker by OceanHouse Media has been released just in time for the holidays. In this story Brother, Sister, and Honey open their presents on
Christmas morning. Among their presents is a Nutcracker Bear which Papa reminds them is from The Nutcracker ballet they saw on TV. At first, the cubs weren't too interested in it, choosing instead to play with their new toys. It didn't take very long for the cubs to get bored. With plenty of time before dinner, Papa suggests they entertain themselves by using their imagination. The cubs think this is a splendid idea and soon find themselves lost in the world of The Nutcracker. Read Fides review.
The Berenstain Bears and the Nutcracker – Oceanhouse Media
The iMums Christmas apps #3
Merry Christmas Mom and Dad- Little Critter by Oceanhouse Media, Little Critter attempts to make Christmas special for his Mom and Dad. He tries different things such as making cookies, picking out a Christmas tree, and wrapping presents, but each time the results are not quite what he was hoping for. Even though Little Critter messes up at everything he tries, you can't help but fall in love with him. He is charming and funny as he explains what he did and what happened when he did it. My kid and I really enjoyed this story. Read our review.
Merry Christmas Mom and Dad – Little Critter – Oceanhouse Media
The iMums Christmas apps #4
Felt Board Christmas by Software Smoothie has become a quick favorite in out home this season. It is similar in every way to the original Felt Board but comes with a huge assortment of Christmas themed pieces such as the nativity, Santa, reindeer, snowmen, gingerbread cookies, snowmen, ornaments, and stockings. Read Fides review
Felt Board Christmas – Software Smoothie
The iMums Christmas apps #5
Santa's Suit is Missing by Ginger Whale Apps is a story about Christmas Eve and it is snowing at the North Pole. It is your first day in Santa's workshop, but all the work is done, the presents are packed, and the other elves are sleeping. You are feeling disappointed to have missed all the fun, when suddenly your Santa Phone beeps – Santa needs you!! Santa has lost his suit and needs a new one before he heads off to deliver the presents. You rush to the village to find him the perfect outfit. What will you get first ? Boots? A hat? A suit? There are lots to choose from, will you get him a traditional Santa outfit or something different? Maybe a ballerina outfit or an astronaut suit ? A Jester's outfit or your own unique combination? Once you made your choices you take the suit back to Santa – but what will he think ? You'll have to read Santa's Suit is Missing story to find out. Read iMum Mary's review
Santa's Suit is Missing! – Ginger Whale Pty. Ltd.
The iMums Christmas apps #6
Tacky's Christmas by OceanHouse Media is a seasonal offering in the popular Tacky the Penguin series of books written by Helen Lester and illustrated by Lynn Munsinger, and brought to the app store by Oceanhouse Media. The story tells the tale of Christmas in Nice Icy Land. The penguins are busy choosing and wrapping gifts. Sadly, in Nice Icy Land Santa doesn't visit (you may need to explain to your children why Tacky is pretending to be Santa), so Tacky has volunteered to dress up as Santa. The friends are also busy making Christmas ornaments and singing carols when they realise there are no trees to hang their ornaments on. Tacky volunteers to help out by being both Santa and the tree (at the same time). As usual with Tacky, things don't quite go to plan, but he ends up saving the day and everyone has a Happy Christmas. Tacky is an odd bird, but a nice bird to have around – especially at Christmas. Read iMum Mary's review
Tacky's Christmas – Oceanhouse Media
The iMums Christmas apps #7
Cookie Doodle by Shoe the Goose is a virtual cookie shop without the mess! Do you enjoy decorating cookies with your family? Cookie Doodle by Shoe the Goose is a universal app where children make a recipe, bake and then decorate a virtual cookie with none of the mess associated with baking at home. The app features 24 , over 200 cookie cutters, photo cookie dough, and 85 different toppings. You can practice recipes with tasks like naming the various objects in the recipe, sifting, rolling, mixing and using cookie cutters to shape the cookies. The recipes can be used in real life to make cookies and help your child practice naming items, measuring, sequencing and fine motor skills. Read iMum Alison's review
Cookie Doodle – Shoe the Goose
The iMums Christmas apps #8
Five Little Monkeys Christmas by Loeschware is a Christmas themed app featuring my favorite little Monkeys! The app features an an interactive counting game with a musical touch based upon the popular nursery rhyme. This app helps toddlers and preschoolers practice early literacy skills with word highlighting, repetition, addition and subtraction practicing early math skills and of course lots of fun. The app features three different musical scores including, "rock", "country" and "pop". This is perfect to work on counting, expressive and receptive language as well as a fun way to learn!
Five Little Monkeys Christmas HD – LoeschWare
The iMums Christmas apps #9
The Witch and the Christmas Spirit is by SlimCricket is a brand new app for iOS. The Witch is getting read for a Halloween adventure when her friend Peepo the Elf calls and says that a terrible illness has spread across the North Pole. He asks the Witch to come and help Save Christmas! Will they be able to? Enjoy this Free app with IAP that includes games, 3D pages and more!
The Witch and the Christmas Spirit – SlimCricket
The iMums Christmas apps #10
Reading Train Christmas Books, Songs & Games by The Learning Station is a leveled reading app containing 30 different Christmas stories. I loved sharing these Christmas stories with my sons and helping them read at the same time!
Reading Train Christmas Books, Songs & Games – The Learning Station, LLC
This post was originally made on The iMums in 2015 at http://bit.ly/1IK2fRo. It is republished with permission.