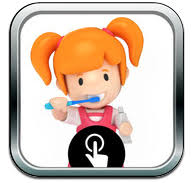 Learning actions is essential for communication and conversation. With this free Actions Words app by Innovative Mobile Apps, your child can improve their receptive vocabulary by learning action words with clear photographs that are included in the app. Action Words is user-friendly and includes over 100 action words for children of all ages and abilities. This app can also be customized to add new concepts in one click (such as adding your own pictures and target actions). Action Words also has the ability to turn action words on or off and introduces each action word one at a time in a field of four.
This app is ideal for younger children as well as children with special needs that need to learn more actions words for both verbal and written communication. The voice on the app can either be recorded by a specific person and personalized or you can use the voice already included in the app. In the settings, you can turn the sound off or on, label the action if desired, turn the transitions on or off, select concepts to play, customize pictures and customize concepts. With over 500 photographs included in the app, you have a variety of opportunities to learn different action words.
Actions Words App connected to Bluebee Pals
Connect your Bluebee Pal via Bluetooth. With Bluebee Pal giving the prompt for the action, this will help a child gaze at Bluebee Pal first and then choose from the selected picture in a field of four. This can help children you tend to activate pictures quickly without listening to the direction first.

Begin playing! As you hear the prompt from Bluebee Pal, activate the appropriate picture. If the wrong picture is chosen, a sound will activate to give the prompt to "try again" but the game will continue to be played.

Get Bluebee Pal involved with the actions! Take some pictures of Bluebee Pal engaged in different actions such as drinking, eating, hugging, jumping, etc. After taking the pictures, use these pictures in the app to teach your child specific concepts. This process of taking pictures of Bluebee Pal hugging, eating, drinking, etc will help carry over some of the skills learned in the app.