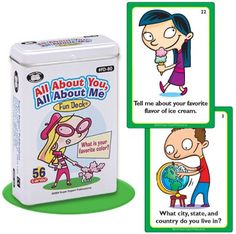 This colorful, educational social skills App for the iPhone®, iPad®, and iPod touch® has all 56 illustrated picture flash cards (plus audio of each card text) from the All About You, All About Me Fun Deck® by Super Duper® Publications. Select the cards you want students to see, and have them ask and answer essential questions about getting to know someone. The prompts include basic questions like, "What is your name?" and "What is your home address?" as well as open-ended questions and prompts like, "Tell me about your friends."


This App is simple to use — each student looks at an illustration, andeither reads the prompt or touches the screen to listen to the prompt. The student then gives a verbal response. After each answer, tap the green (correct) or red (incorrect) button to score the student's verbal response.
Mo
ve to the next card by sliding the card currently on the display screen to the side. To move to the next player, tap the bar at the top of the screen and select a name. You can also advancecards and players automatically by selecting the Auto-Advance option in the Game Options menu. You can leave a game temporarily and return to it later by selecting Pause Game from the menu. To return to the game, select Continue Game from the main menu. When you finish, view the results in a graph, and print or email your data.
Have your Bluebee ask your student "wh" questions about themselves! Included in this app, All about You, All About Me include 56 cards that can help initiate and begin a conversation during both an individual session and a group session.
1. The deck includes basic questions, open-ended questions, content cards, and game ideas. Use the cards one-on-one or share them as a group. Some of the questions include "How old are you? When is your birthday? Tell me about your father, What is your favorite color?, etc.
2. I have used this app with both verbal students and nonverbal students using AAC. With Bluebee asking the questions, the child can become increasingly more motivated when answering the questions about themselves.
With this app, your student has the opportunity to ask and answer "wh" questions, create grammatically correct sentences, take turns in conversation and use more complex language (e.g. descriptor language, actions, pronouns, etc.). In a group therapy session, each student to take a turn with asking questions using Bluebee Pal.