L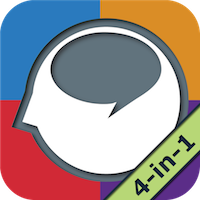 anguage Therapy App 4 in 1 was created for stroke victims but can be useful for many different populations such as children with speech and language disorders and delays and other varying disabilities. This free app contains nearly full functionality for a limited number of words, allowing the user to see how this therapeutic app works as a comprehensive toolkit before purchasing the full version. Language Therapy combines Naming Therapy, Comprehension Therapy, Reading Therapy, and Writing Therapy in a 4-in-1 value pack. The comprehension portion asks the user to listen, read or listen and read. With the naming task, the user has the ability to engage in "naming practice", "describe" and "flashcards". For Reading therapy, the individual has the option to phrase match, sentence match, phrase completion and sentence completion. For Writing Therapy, the user has the ability to trial fill in the blank, copy, spell what you see and spell what you hear.
This therapy app includes four components which contain real, full-color photos, e-mail reports, and a mature and simple interface suitable for adults with aphasia or older children with special needs. This app is perfect for trial before purchasing so that you can explore the different features and try it with a variety of clients. This app can be useful in a variety of settings including homes, schools, clinics, and hospitals.
Let Bluebee Pal join the fun with the app in making this app more interactive and engaging for a child!
Connect your Bluebee Pal with your device. Choose between Comprehension Therapy, Naming Therapy, Reading Therapy and Writing Therapy. I think the best place to start with your Bluebee Pal is with Comprehension or Naming Therapy. For Comprehension Therapy, choose "Listen" and then the arrow button. With the lite version, you only have access to Nouns. With the full version, you have access to Verbs and Adjectives. As you move from screen to screen via the arrow,

Bluebee Pal will call out the name of a noun and the individual will need to find that noun.

If the child is having trouble, access the "hint" to see the written word of the noun.

When you are done with Comprehension Therapy, choose Naming Therapy and activate "naming practice", "describe" or "flashcards". Whichever section you choose, Bluebee Pal can help a child navigate specific language exercises to improve naming abilities. For example under "describe", a photograph of a noun will appear. When you touch the noun such as "train", Bluebee Pal will speak the name of the noun. Surrounding the picture are different icons that can help to describe the noun such as "what sound does it make", "who uses it", etc.