Do you want to teach your child to be more independent in the kitchen? How about helping them to prepare and purchase food? Dinner preparation can be a very busy and stressful time for parents due to homework, after-school activities, sports, etc. Often, we rush through preparing our meals to just get the food on the table. Teaching your child food preparation can not only be a fun and bonding activity, it can also help target language and learning goals.
Language concepts such as expanding vocabulary, following directions, recalling information and sequencing are just a few goals to start with! Bluebee Pal can help by providing that extra level of entertainment and engagement with your child. With these apps suggested below, your child will become a little chef in your kitchen! The key to carrying over these skills is by playing the apps with your child together when learning the app and then engaging in the same steps at home in your own kitchen. Labeling specific modes of cooking can be helpful. For example, when your child is microwaving a vegetable in Toca Kitchen, say "I see that you are using the microwave to cook the vegetable. Where is our microwave?"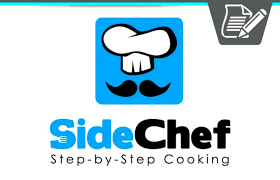 Sidechef App: SideChef makes cooking accessible, easy and fun at any skill level by providing the user with step-by-step photos, instructions, and voice commands. This free app includes over 3500 step by step recipes and a homepage that changes daily with helpful tips. Each recipe has an integrated timer and allows for hands-free cooking with the timer and audio feature. To learn more about how to use Side Chef with your child and Bluebee Pal, click here.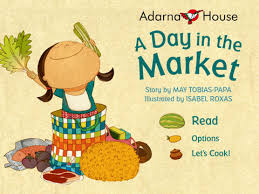 A Day in the Market app: A Day in the Market (Araw sa Palengke) a story app that is about little girl's very first trip to the market with her mother. The market is an exciting cultural adventure as she meets lively vendors, see a variety of foods and items and finds a special item that she wants! This story can help give a child background in purchasing foods for a special meal. For an additional $2.99, you get access to the book in two other languages, a sorting game and interactive scenes that bring the book to life. The story and illustrations were tested with more than a hundred schoolchildren who gave their feedback and thoughts about the story and art. To learn more about how to use this app with Bluebee Pal, click here.
Ice Cream and Smoothies Panda Shop app. It's never too cold for ice and smoothies! Healthy breakfast smoothies can be an excellent way to get your child to start their day off right. This app allows a child to manage their own shop and make their customers happy by customizing each order. The player will be able to choose your favorite shapes, fruits, and flavors with more than 10 choices. The app will also help a child learn specific flavors and different fruits which can help build vocabulary and learn the various foods within the category of fruit. Other categories include shapes, appliances and other food groups such as dairy (e.g. milk). It will also help with sequencing, following directions, prediction, categorization, and learning simple actions (cut, scoop, blend, eat, etc.). After playing this app, make your own smoothies in the kitchen for breakfast. To learn more about this app and how to use Bluebee Pal with it, click here. 
Dr. Panda's Restaurant Asia: Learn all about how to prepare Asian food with Dr. Panda Restaurant Asia app! As the character enters the restaurant, Dr. Panda greets his first customer. How will Dr. Panda prepare the food? Should he chop the food first? After chopping the vegetables, Dr. Panda will help you through the next steps of the recipe. By paying attention to Dr. Panda's nonverbal language (nodding his head yes or no), your child will figure out the steps of the recipe. Will the customer like the food? Find out by playing this app with your child! To learn more about how to use his app with Bluebee Pal, click here: https://www.bluebeepals.com/wp-admin/post.php?post=32319&action=edit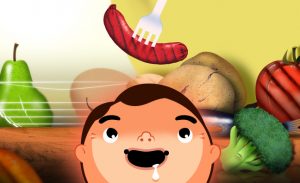 Toca Kitchen: Toca Kitchen is an excellent app to help teach your child about the different types of food preparation. When the game opens up, you have the ability to choose a character and then prepare food for them. First, you choose a food from the fridge and then it's time to prepare! Choose from chopping, blending, boiling, sautéing or microwaving! Your child will be an expert in the kitchen after playing with this app. To learn how to use this app with Bluebee Pal, click here: https://www.bluebeepals.com/wp-admin/post.php?post=32319&action=edit