Petting Zoo app is an interactive picture book with illustrations by Christoph Niemann.  This app created by the company Fox and Sheep is fun, versatile and interactive for children of all ages and abilities. Swipe and tap the 21 animals and see their reactions. Stretch the dog, move the lion's mane up and down, move the alligator's mouth and much more! The app begins with a bunny and then slowly turns into different animals for some interactive fun! The animations, transitions, and drawings are mesmerizing and children will find it fascinating and clever how to stretch the animals and use their movements of their finger on the screen to give Elephant a bath, move the animal up and down and engage in endless fun!
The app also includes playful and musical sounds for each animal. The app also does not require any specific language or reading so it's excellent for those students who speak a different language or are emerging readers. Petting Zoo allows you to go to specific chapters in the interactive picture book, turn the music on and off and choose to turn the transitions on or off.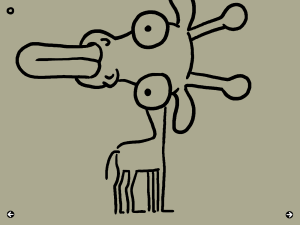 1. Get Bluebee Pal involved in the fun by connecting him via Bluetooth. Once connected, Bluebee can sing along with the music.
2. With each swipe or move with the finger on the screen, the child will hear a different sound which can help build cause-effect skills! This app is excellent for a beginner communicator that is building their cause and effect skills.
3. With the stimulating movements and drawings, this app is ideal for facilitating comments and expanding language. Move your finger in a circle to see the giraffes head move in a funny way. Use this opportunity to ask the child, "What happened to the giraffe?", "Can you make the giraffe sit?" "How did you do that?". An excellent and educational app for following directives, commenting, expanding vocabulary and learning actions.