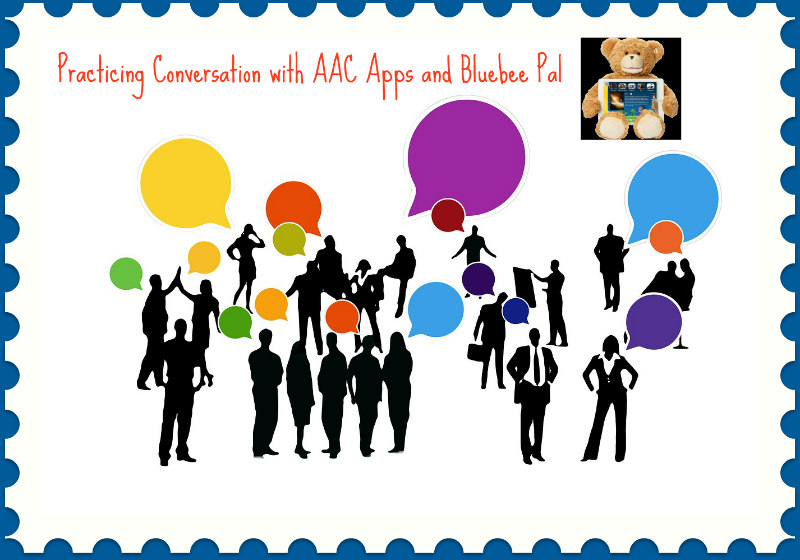 Children who use AAC often begin using their augmentative and alternative communication apps to request desired items and actions. Although this an important communicative function to help meet basic communication needs and wants, it's not very helpful when it comes to having a meaningful conversation. Can the AAC user greet appropriately, make comments, ask questions, or express an opinion?
These are one out of many communicative functions that are necessary for a meaningful conversation. Many AAC users need practice with having conversations with others via their AAC system, which makes conversation challenging depending on the contexts and that individual's communication partners.

Many AAC users solely have structured conversations with just paid and familiar communication partners. How can we expand conversation so that children who use AAC can have a more meaningful conversation with others, such as peers and less familiar communication partners? Use the Bluebee Pal! I have recently had some wonderful sessions with my preschool AAC users with the use of Bluebee Pal. They love talking with Bluebee Pal and are motivated to use their AAC system as well!
Bluebee Pal can be helpful because this friendly learning tool is nonjudgmental, easy to communicate with and available.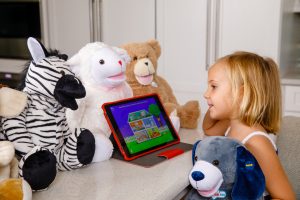 You will need two separate communication systems for this exercise. One for the AAC user and one for you as the communication facilitator!

Focus on specific topics and ask specific questions that would emulate a conversation with peers. Try to stick with topics that are motivating to the child who is using AAC. For example, if that child likes video games, ask about their favorite videos games.

Encourage descriptive concepts and core actions. For example, ask your student this question, "Can you tell me what your Christmas tree looked like?" This can encourage the child to communicate, "bright", "pretty", "awesome", etc. Another question such as "What did you do over the Christmas break?" can elicit answers such as "I play", "I watch", "I go", etc. When it's the child's turn to respond, make sure to model and prompt as needed.
What communication app do I use? Check out my other app reviews here to get some ideas on communication apps available. If you don't see your communication app, please comment below and I will be sure to review it! Thank you!
The pictures in the post were taken from the Bluebee Pal gallery. These are great examples of how to position Bluebee Pal when working on the goal of meaningful conversation.