Proloquo2Go is a communication app that is used by individuals who have a limited ability to use speech for communication and need an augmentative and/or alternative way to communicate. I have used this communication app with all ages from young children to adults with complex communication needs.
The Proloquo2G App offer s a variety of page sets for individuals with varying abilities and is easily customized. When referring to these tips below, I find them to be most useful when using the core vocabulary page sets, which give individuals the ability to communicate most effectively. Additionally, it would be helpful to have Proloquo2go on two separate iPads (one for the child if they are using that as their form of communication and the other iPad for the therapist who is using Proloquo2go for modeling purposes with the Bluebee Pal. 
Before you start an activity with your Bluebee Pal, ask the child "What would you like to name our Bluebee Pal?" Use the keyboard to create a name or give various choices. For an emergent reader, ask the child to choose one letter from the keyboard and then give choices from there (e.g. the child presses M, therapist asks child "Would you like her to be called Melanie or Mimi? etc). Having the child create a particular name for the Bluebee character will make the activity below even more meaningful. Once the child has created a name for the Bluebee Pal, add that name to the people page so that the child can create sentences with the name, request and comment appropriately.
Invite your Bluebee Pal to a tea party! your Bluebee Pal sit 
at the table  with you, as the therapist use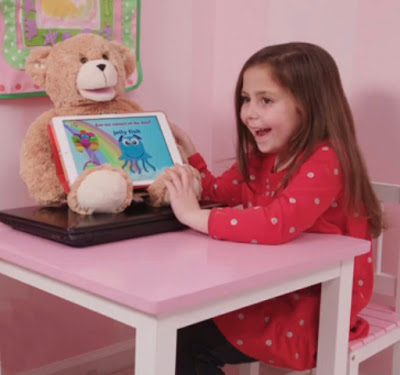 Pr
oloquo2Go to help facilitate
speech and language goals.
When the tea party begins, practice gre
etings by
navigating into the chat page and saying "Hello, My name is Bluebee (or the name created by the child)"
What is your name? Have the child respond via speech or aided communication
throughout this session. During the tea
party, you can use Proloquo2go to ask questions ("What do you like to eat?",
"Who is your best friend?"), answer questions ("I like to eat toast."etc.) and engage in
simple conversation. 
This activity can help a child work towards initiating
communication, sharing preferences (e.g. "I like the pink cup") and sharing
information.
If a child is working on following directions, use your Bluebee P

al to give directions via the use of

 

Proloquo2Go (e.g. Please give me the blue cup, etc). Encourage commenting by

 

expressing various comments in the describing page (e.g. wonderful, favorite,

fun).

Use modeling and prompts to encourage the child to create 3-4 word sentences 

such as "This is fun" via using both core and fringe vocabulary.

Other pages

 that would be useful during this activity would be the feelings page (e.g. "I 

feel happy"), actions ("I feed the baby"), and the food page ("I want a

 

cookie"). Don't forget to say "goodbye" and "all done" via navigating into your

 

chat page and then accessing "all done" on your core page.