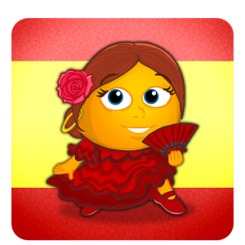 Fun Spanish Language Learning games is a free and engaging app for children who want to learn Spanish. This app is part of series of many different apps by Study Cat include Fun Chinese, Fun French and much more. The app includes  2 Free Lessons and 13 Learning Games. The app is designed for children ages 3-10 and includes courses for preschool, early learners and young children learning different languages. The app combines a language course with different games to keep a child engaged and entertained while learning. The course is divided into lessons with each lesson including core vocabulary in several contexts. Both male and female voices are included with appropriate intonation and expression to learn the pronunciation correctly. The free lessons included are colors and animals. More lessons are available for purchase including numbers, body, fruits, food, clothes, vehicles, the house, sea animals, school bag lesson, and actions. Children love learning and languages introducing at an early age are considered easier to absorb than in later teen years.
These lessons can be purchased individually or in a pack.
Connect your Bluebee Pal! 
1. Connect your Bluebee Pal via Bluetooth to your tablet.
2. Let the fun begin. Bluebee Pal can provide the audio feedback during all of the games by helping your child learn new Spanish vocabulary in addition to aiding your child with the sounds of the letters for early learners.
3. Practice the free games in the category of Animals such as Silhouettes (identifying each animal), Two by Two (learn plurals), Spellbounce (spell the animals in Spanish), Whack (singular and plural), Animal Band (reviewing the animals) or Voice Choice (provide your own voice). With Bluebee Pal, learning Spanish will be endless fun for you and your child. Now they have a tech companion that can also teach and motivate them.