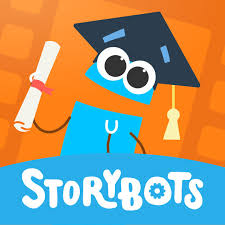 The StoryBots App is an educational and lively app that includes over 250 educational books, videos, and games. This free app includes characters from the hit Netflix original series, "Ask the StoryBots" and "StoryBots Super Songs and also has the ability to add your own photos such as Bluebee Pal's picture to make the stories and videos personalized. This app is used in more than 20,000 classrooms around the world and can help get your child engaged in literacy, math, and history activities.
The StoryBots App comes with free sample content, while a premium StoryBots membership includes the entire library of books, games, and videos. With all of the videos included, this can be a perfect opportunity for Blu
ebee Pal to be connected so that he can sing and be a part of the Storybot experience. The videos include songs about starring you, ABC's, numbers, shapes, dinosaurs, professions, colors, behaviors, and many more! Within the books, you can have one free book that can be customized with access to more books with the membership. Bluebee Pals animate the educational experience and motivate kids to learn.
Connect your Bluebee Pal! Activate the app and choose video or book.

By choosing video, your Bluebee Pal will immediately start singing and be part of the show. With each educational video, your child will get exposure to various concepts that Bluebee can help reinforce.
When choosing books, use Bluebee Pal to star in the free book Biggest Pizza Ever that is included in the app. Your child will love seeing Bluebee Pal in the book making pizza, rolling dough, thinking about pizza, making crust, pouring sauce, biking, sprinkling cheese, doing a dance and much more! Although Bluebee isn't reading the free book, he will be humming in the background while Bluebee Pal is the star of the book!
https://www.bluebeepals.com/store/