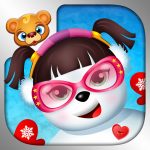 RosMedia has a suite of apps that are a wonderful addition to any preschooler's tablet for fun and learning. Apps vary from an introduction to music or other creative arts to auditory discrimination and the ability to follow directions. Included in their suite are a few seasonal apps to help display and rehearse celebrating the activities that are in synch with the time of year. One such app, 123 Make a Snowman is not a traditional app for Bluebee, in that it does not contain verbal commands. It does, however, generate music while a child creates a snowman or hook Bluebee up to a wintery playlist and watch your child go at it! It is available on both iOS and Google Play in a free – try before you buy versions that contain ads unless the full version is purchased.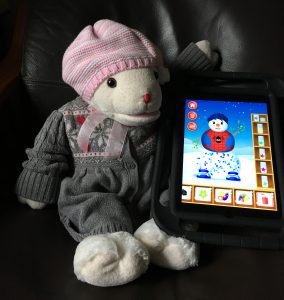 On opening, a snowman figure is ready and waiting to be personalized. I love this app for its simplicity in design, and the opportunities it gives a child for creative control. Should it be a boy or a girl? On the bottom of the page lies categories of attributes to select. Choosing one – be it eyes, boots are hands, boxes are then displayed to the right of the snowman, with a variety of materials from that category – there is even a Spiderman sweater for the snowman! Presented here are so many opportunities for language enhancement. In addition, if your child struggles with isolating his/her digits and pointing, learning to visually target and tap a selection will give kid's immediate results. Dragging and dropping features are also a choice for scaffolding skills. In summary, 123 Kids Fun Make a Snowman, not only for incorporates body awareness, language development opportunities, and the ability to refine and scaffold movement patterns but also gives encouragement for off-screen activities. So, do you want to build a snowman? With Bluebee at your side singing, he/she also serves as a model for the placement of eyes, ears, nose and mouth, and helps keep a child engaged by playing by having someone who loves you close at hand!
Jo Booth OTR/L has been an Occupational Therapist for over 35 years, and currently practices at EasterSeals of SEPA, Montgomery County Division mainly focusing on Early Intervention. It is an APS (Approved Private School) and home outreach based setting. She has also worked in Adolescent and Adult Rehabilitation. Writing reviews have been a tremendous opportunity and experience to share and learn with others.