Care for Our World by Sunbreak Games is a beautifully illustrated interactive storybook which seems more like a beloved poem from a time when you were very young. Based on the award-winning book by Karen Robbins and illustrated by Alexandra Ball, it takes kids to environments and animals across the globe – introducing children to species from all the continents as well as the seas and lakes. This extraordinary app delivers an inspirational message of responsibility to care for "all living things" and brings forth hope for the future in a gentle and subtle way. Choices are to Read the Text or to Listen to a lilting and rhythmic narration. The narration is perfectly timed and slow, so kids have time to not only process the text but also revel in the feast of both the beauty of the world portrayed and the sounds that lie therein.
Within the book, a simple tap on any item – be it an animal or a part of the illustration, brings up the label as well as the sounds and reactions within the natural habitat. Kids can hear a child sigh, a bear growl, or the chatter of meerkats. The settings tab allows for adjustment of music, reading options, or whether you want to have the tap the word feature on – this is a thoughtful gesture for more distractible or sensory sensitive kids. In addition, there are coloring, creating, and learning pages that are included to extend play and facilitate replay. Coloring pages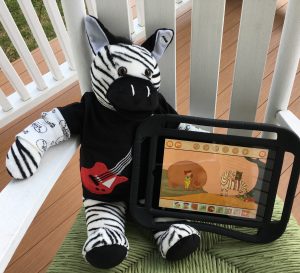 have both a fill bucket option for in-line color and a paintbrush that reflects a natural stroke that goes outside of the line. I love this feature as it teaches kids better grading of control with marking/coloring a picture. The Create feature is a hand's down favorite. There are 4 backgrounds to decorate with stickers from the pages of the book, and the opportunity to teach basic iPad skills of using the controls to resize or change the direction of a sticker.

The mini-encyclopedia is absolutely stellar. There is a short synopsis of an animal and its habitat and includes the sound it makes as well. The stunning photos of the animal in action are gorgeous and give kids that real life experience of seeing an animal in its natural environment. All the Bluebees are fond of this app, as many of his/her cousins and friends are featured throughout the book. Try taking turns having Bluebee read the book, and then turn Bluebee off and give your child the opportunity "to read" to Bluebee or play with the other activities in the app. It doesn't matter if they are simply imitating reading as this will only peak a child's interest in learning about words and reading in the future. This app is highly recommended. It is available for iOS devices.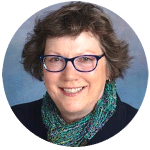 Jo Booth OTR/L has been an Occupational Therapist for over 35 years, and currently practices at EasterSeals of SEPA, Montgomery County Division mainly focusing on Early Intervention. It is an APS (Approved Private School) and home outreach based setting. She has also worked in Adolescent and Adult Rehabilitation. Writing reviews have been a tremendous opportunity and experience to share and learn with others.