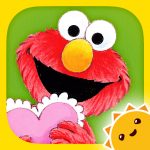 Elmo Loves You! by StoryToys Jr. is one sweet treat for Valentine's Day. Based on one of Sesame Street's most popular books, this 3D storybook is written and read to YOU by everyone's favorite little monster, Elmo. Of course, parents or children have the option to read it by themselves, read it with Elmo, or whether to have the music playing in the background. For kids that have difficulty with auditory processing or are more sensory sensitive, this will increase both their comfort and enjoyment of the book. Other options located under the parental gate include text highlighting, ads, and links to the app store for information on other StoryToys apps. As StoryToys has consistently produced outstanding apps for kids and is committed to bringing age-appropriate play materials for all children, their suite of apps is worth a look for parents, teachers, and clinicians.
An Inside Look at the Elmo App
In the poem, Elmo Loves You! Elmo describes what others love to see and do. Written in simple sentences, it is perfectly aligned with a toddler's attention span which can be extended by engaging in the interactivity of each page or any of the extras provided with the book. There are interactive features on each page if tapped, and StoryToys has brought in the voices of some of Sesame Street's most beloved characters – Bert and Ernie, Cookie Monster, Grover, and Big Bird to name a few! Fun puzzles and sticker pages are also included as stand-alone activities. The puzzles have 4 different levels of difficulty to master – ranging from the easy 6-piece puzzle pieces to a 15-piece puzzle-master "Champion level". Prompts are also faded with the beginning levels having matched pieces to a picture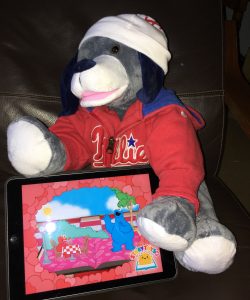 of the completed puzzle and the harder levels have only the puzzle piece outline for reference.
A fav for kids who have read the story is the chance to make up their own stories with the sticker pages. There are over 100 3D "live" stickers to play with and create original scenes. It's fun to turn the table and pretend reading your new story to Bluebee! In addition, it's a rich opportunity to support growing language skills as well as spatial skills – both which are needed for reading and math.
Elmo Loves You! is not only an example of how to pair early learning activities to give young children the "just right challenge" but also reinforces social-emotional well-being and health. When read with Bluebee – it is just down right affirming and a story with a feel-good vibe! You see reading with Best Friends is like that. Available on Google Play, Amazon, and iOS.
Jo Booth OTR/L has been an Occupational Therapist for over 35 years, and currently practices at EasterSeals of SEPA, Montgomery County Division mainly focusing on Early Intervention. It is an APS (Approved Private School) and home outreach based setting. She has also worked in Adolescent and Adult Rehabilitation. Writing reviews have been a tremendous opportunity and experience to share and learn with others.