Domi Domi Listen and Guess by Yellow Dot is an awesome app for building vocabulary and pairing listening skills with making choices and taking action. On opening, kids can choose to listen to different sounds or play a game identifying sounds. The selection is clearly identified by the Little Domi Domis on the home page. The categories cover a wide variety of preschool subjects: Animals, Wildlife, Instruments, Vehicles, and Around the House. By tapping on a category in the "listening section" kids can hear the sound from their selection. After listening to the sound in isolation, be it an excavator or a tiger, they then see the label of their selection spelled out below the picture. This brings on board the visual, auditory, and motor systems; a powerful trio in enabling kids to retain material. For auditory sensitive kids, this app is a gem as sounds that may be typically scary are under the control of a child. Through play they can eventually habituate to the sound, and when mommy says "I am turning on the blender" it may not be as scary, because they know what the blender sounds like.
A thoughtful touch from the developer is that under the parent's section on the homepage, parents can eliminate certain sounds a child cannot yet tolerate, such as that big loud vacuum cleaner. In fact, the vacuum cleaner is also eliminated as a visual choice too, and keeps little ones from going on overload by accidentally tapping on a noise that may cause distress. The "Guess" section has kids also choose a category, but includes a section for "mixed sounds" which is any or everything from one of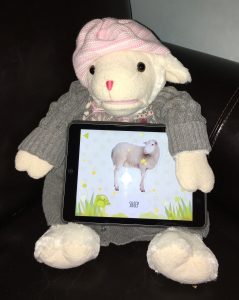 the other categories. This section benefits kids by fully generalizing the sounds they have learned throughout their day, and not just from one controlled category. This apps bright presentation and sweet graphics are non-cluttered and help kids stay on task. I love the pictures of real objects intermixed in a playful and kid-friendly interface.
Bluebee is the perfect choice for teaching early listening skills and for kids that are auditory sensitive. As a quick hug from Bluebee will provide kids with the just right amount of deep pressure to relax and begin to habituate to stressful sounds. In addition, the sound coming from the Bluebee is known and anticipated which decreases stress levels of an unknown entity. Available on iOS.