Grandma's Great Gourd by Literary Safari is an enchanting story about courage and the ability to stay calm when the world spins out of control around you. We first meet Grandma in a little village in Bengal with her two dogs. She has a happy life there and has the most wonderful garden. After receiving a letter from her daughter, she decides to go on a journey through the deep forest to see her. In the forest, she encounters wild animals – a crafty fox, a stealthy tiger, and a big huge bear, ready to eat her up. Grandma, however, uses her wits and promises them she would be much tastier after being fattened up by her daughter's wonderful cooking. Each animal agrees in turn, and so Grandma goes onward through the mighty forest. Once at her daughters, she plants a magnificent garden where the vegetables grow big and in abundance. They feast on them, and Grandma indeed becomes plump. But alas, after a while, she misses her dogs and her garden at home and decides it is time to return. Having told her daughter of the wild animals and her fear of being eaten, her daughter comes up with a grand plan to save Grandma. What happens? Will Grandma make it back? Does she meet the bear, tiger, and fox? What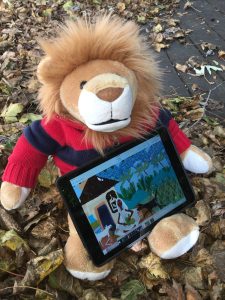 was the daughter's plan to save Grandma? Well, you'll have to read the book to find out what happens in this version of standing up to tricksters!
The app contains a "Read to Me and an Auto Read" mode, both with text highlighting. There are 2 games included, a mini gardening game and another physics-based game of rolling gourds that is loads of fun. The graphics are presented in a rich array of images and patterns in a collage style. Simply put, the book is a visual feast and one where you can begin to feel the beat and rhythm of the countryside of Bengal. Literary Safari is committed to presenting diverse cultures by allowing kids to see and experience the world's citizens as they are in real life in their selected stories. In addition, Literary Safari has provided kids in Grandma's Great Gourd with video to take a virtual field trip exploring the taste of food, art, music, language, and clothing of the region. One of the qualities of the text that both clinicians and parents will appreciate in using Bluebee as a narrator, is that the app can be read and recorded for playback by a favorite adult or the child themselves through the Bluebee. The verse also contains many lines of repetition allowing kids to shout out the known phrases along with Bluebee.
This participation helps bring them actively into the story and become part it – and ultimately allows for emulation and imitation of admirable characteristics to arise naturally. You see, there is nothing like a good story when shared with a friend like Bluebee!