Bluebee loves Halloween with all its fun activities. Dressing up and trying out new roles for pretend play gives kids a chance to take on another's perspective. Young children often have a blurred line between reality and make-believe, so putting on that princess's dress is the way to being royal – at least for a while. However, there's a lot of novel stimuli coming at your child during Halloween, so it makes sense to use Bluebee to help your child prepare for changes in routines and what to expect. The Halloween Holiday Apps listed below are all grand ways for kids to explore what the celebration is all about. It also habituates a child to the sights and more importantly the sounds of the holiday. Here are some of our favorite Halloween apps to get you started:
Yum Yum Letters: Learn and Trace by Kindermatica is an outstanding app for beginning to grademovements and make markings within a pathway. Kindermatica has seasonal themes within the app to keep its content current. The Halloween Theme contains a spooky but friendly spider, pumpkins, and atmospheric fun. With Blueebee there to deliver the instructions to the app, your child will be unstoppable. On opening, each letter is introduced as well as its formation. The letter is then formed by using either the finger or a stylus. Bluebee always uses a stylus, and I would encourage the use of one if your child's hand is ready for a writing utensil. One of the things I love about most handwriting apps is that kids must practice proper letter formation to proceed, and Yum Yum Letters has kids practice the formation of each letter three times with slightly different backgrounds and prompts to help ensure carry-over and promote independence. Once they have practiced, they are rewarded with a game – that furthers spatial skills involving symmetry.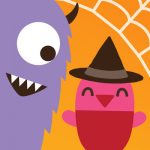 I look forward to Sago Mini Monsters Halloween update every year. This is an app that can be used for children that have mastered single causation in play, and need more of a challenge. The Halloween version has kids bring up a monster face from the green slime pits. He is then dusted off and painted, given new accouterments, and then feed all sorts of treats and goodies. There is a price to pay – and as Bluebee knows – if you eat a lot of treats, you need to brush your teeth. I love how daily routines are reinforced in this app. Brushing teeth is often hard to incorporate into a young one's day. And practicing this in-app presents an opportunity to familiarize them with the sequence to the task and make it non-threatening. In Sago Mini Monsters, Bluebee plays the music to the app, helping children to self-regulate and attend through the rhythms presented.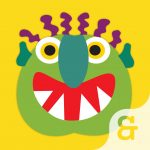 Go Away, Big Green Monster! Is an action-packed app that can be Read Along with the exciting author and narrator, Ed Emberley, Read Along with a child narrator, Read by Myself, or have the Story Sung in an upbeat jazzy tune.  The benefits to this playing are both learning about the vocabulary for body awareness, but the ability to anticipate and sequence a story. We use this app in therapy all year round as its liveliness is simply infectious.
Trick or Treat Little Critter is an interactive storybook by OceanHouse Media that explains the customs of Halloween to little folks. It describes in detail the expectations and roles to play at Halloween as well as all the great benefits to Trick or Treating. It always amazes me how a few kids have no idea what is going on during Halloween because no one has explained it to them. Often there is not an older sibling or friend that explains what the holiday is like in Kid's Terms that would make it remotely interesting and something that they should invest time and effort into participating. Too many kids, the thought of dressing up in something uncomfortable, staying out late, and all the noise is just too much. Once they have an idea of the benefits to be reaped in terms of attention, candy, and fun…they are all in. OceanHouse Media is a company that always comes to the rescue in explaining the world and its customs to kids.
BabyLit Build and Play Frankenstein tells the tale of Victor Frankenstein and how he came to make the lonely purple monster as well as a play section of dressing up Frankie. In the parent's section, there is a summation of the original book. Although the summation is not meant for young children, it does provide parents with talking points of appreciating all life and the richness of our differences the world over.
Revised and updated for 2018