How I Became a Pirate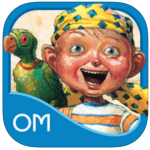 , the award-winning book by Melinda Long and David Hannon, and brought to life by OceanHouse Media is a must have for the swashbuckling set! In this interactive storybook, Jeremy Jacobs – a young boy with time on his hands boards Captain Braid Beard's ship – you see they needed a fine "digger" for treasure on the crew. On deck, he learns the skinny on becoming a pirate – how to talk like a pirate, sing sea chanteys, and why pirates have green teeth! In the end, Jeremy misses the routines and comforts of his family and heads off for home…with the treasure of course! This is a book, written with all the wonders of childhood, but also has some serious educational chops. The book is professionally narrated, meaning Bluebee will just have the right voice in telling the story. If a picture or object is tapped, kids can see that word in print. I love this feature as it teaches a refined point and strengthens the hands. All words in the text are highlighted, giving emergent readers some independence. Illustrations are superb and have the perfect mixture of fantasy and realism to make the story more real.
The most remarkable feature is the ability to record narration for playback, and that means Bluebee can read to your child through your voice or the voice of a loved one that may be far away. The book is filled with frolic and fun and provides just the right impetus to create your own day's activities of pirate's madness and mayhem – with a little bit of parameters of course. Kids need to let off steam and have fun, and playing pirates is one of the number one ways to do it. Paint a box, and have Bluebee and your child set sail on the seven seas. Use your phone to provide treasure hunt hints through Bluebee to find some Treasure! Make a Pirate's eye glass out of a painted or decorated paper towel roll, and set out to discover the park – with Bluebee, your new Pirate friend of course! The possibilities are as wide as the deep blue sea!