Into the Snow: A Stella and Sam Adventure, is part of an exceptional series by zinc Roe. It's based on the adventures of a brother and sister, along with their dog Fred. The series covers a variety of topics that directly relate to a preschoolers' world of experiences, and that is what makes it so accessible to children. This book is a perfect example of an appropriate interactive app for early learners and serves as a rehearsal for new experiences. It has enough content to engage and balance the demands for following directions and creative thinking. In addition, it's a delightful short story – that matches both the attention spans of wee ones with their ability to perform. Many children, when asked to do a novel task that requires thinking skills and performance, are easily overwhelmed and try to escape because the demands are too high – both in their sequence and length of time needed to complete a task. Keeping the story short while placing the "just right challenge" for the interactive tasks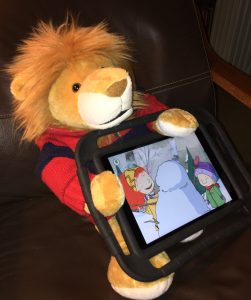 helps kids learn about having a beginning, middle, and an end to events as well as the reinforcement of self-satisfaction that comes with task completion. The graphics are superb as well as the soundtrack, keeping the focus on the story and listening to the nuances of conversation between Stella and Sam.
On opening, Stella and Sam with their dog Fred walk out into a winter's day filled with "fresh and fluffy" snow. They set out to find their toboggan, and of course, get sidetracked along the way. Making pictures out of finding objects, building a snowman, and uncovering their toys and other treasures buried under the layers of snow present ideas of activities to pursue off-screen. These activities provide kids with the ideation and sequence to attempt new play schemes when presented with like circumstances. Try putting Bluebee in a cozy corner on a winter's day, and allow your children to dream about sledding and exploring all that winter has to offer once it's OK to go outside. With Bluebee, all things are possible…you just need to add a little imagination.
Jo Booth OTR/L has been an Occupational Therapist for over 35 years, and currently practices at EasterSeals of SEPA, Montgomery County Division mainly focusing on Early Intervention. It is an APS (Approved Private School) and home outreach based setting. She has also worked in Adolescent and Adult Rehabilitation. Writing reviews have been a tremendous opportunity and experience to share and learn with others.