Bo's School Day by Heppi is a delightful storybook app detailing the routines of going to school. Kids lead Bo, the giraffe, throughout the day and help him ready for school by packing his lunch and backpack, playing with friends at school, and finally going home with Mommy. Many kids that are beginning school, need that reassurance of a schedule and in particular, when a parent is coming back. Using a story such as this can help alleviate anxiety by letting them know what is to be expected. We've had kids use personal visual schedules or classroom schedules on the wall. (Detailed reviews of visual schedules to use with Bluebee Pals and the ins and outs of why kids benefit from schedules will be forthcoming in January when we all start afresh).
Inside Bo's School Day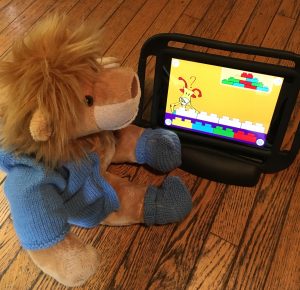 Rise and Shine little Bo, it's your first day of school and that means establishing new routines. The app proceeds through a typical day at preschool. The graphics are bright and cheerful and the narration gentle. When the app is played through Bluebee it's like getting the skinny on what school is like from a friend. Here are just a few of the many routines of a little one at school.
Packing lunch – Bo is up and dressed and readying himself for the day. He makes choices about what to have for lunch and places it in his lunchbox and then his backpack. Giving kids guided choices and responsibilities not only teaches the consequence of making choices but also gives them the tools for later habits for independence.

Putting your Coats and Bags Away – is a nice matching

activity

that also encourages habits for independence.

Circle – is a big part of any preschool routine. Days of the week and music time teach about activities and the

Outdoor Activities – use early counting and visual motor skills for fun and learning

Playtime – includes block design, puzzles, and matching and sorting activities.
In Summary
This an app that will get repeat play from kids just entering school and beyond. Routines are reassuring and help make us feel safe. In addition, it is a great way to explore and practice with a confidant like Bluebee. 
For Bluebee to interact with the Bo's School Day, follow these steps from HOW IT WORKS on the Home Page of the Bluebee Pals Website.
Pairing Bluebee with your Bluetooth® Device
Keep Bluebee Pals and your device within 3ft of each other when pairing.
Power on – Open the back panel of Bluebee Pals and slide the Power Switch (1) to ON position. Your Bluebee will say "My name is Bluebee. Please pair and connect me using the Bluetooth® located on your device".
Go to "Settings" on your device, turn on the Bluetooth® function, and search for "Bluebee Pals".
If the pairing is successful, your Bluebee will say "Connection succeeded".
If Bluebee cannot find a device in two minutes, it will say "No one is here, please try again". Please check your device to make sure it is not connecting to other Bluetooth® equipment.
NOTE: Bluebee Pals can only connect with one Bluetooth® device at a time.
Bluebee will go into sleep mode if there is no signal for five minutes. Just turn the power OFF and ON, and repeat the connection process.
Bluebee remembers the last connected device and will reconnect automatically.
Bluebee will now play with the paired app. Enjoy!!!