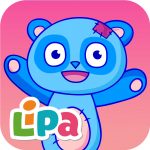 Lipa Bear by Lipa Learning is an endearing early learning app for 2-3-year-olds who are in the midst of a language burst and want to learn about EVERYTHING and learn it NOW! This little app gives them the opportunity to strut their stuff and show you all that they know! Lipa Learning has a suite of apps divided into three age groups: Essentials, Preschool, and Ready for School, and all the apps teach skills from 8 areas of child development. Lipa Bear, for example, falls under the Essentials group for the youngest learners. Bella Bear, an adorable little patchwork bear is your guide to learning, for she is curious too. She requests identifying a picture from a set of three flashcards. The graphics are clean, and there is no extraneous visual clutter, making the intention for action clear. Music can be turned off at any moment by a child – giving them control over their own sensory sensibilities and tolerances. Categories include Things, Animals, Colors, Moods, and Actions. Bella displays a range of facial expressions and vocalizations, teaching kids the
nuances of both body language and tone in "reading" – helping to understand the message. This is what sets this set of "flash cards" apart from the like-minded apps.
Each scene opens to Bella sitting in front of 3 open-faced cards, and then she requests a card that best displays the answer to her inquiry. Once a child responds, the app comes to life through Bella and especially when the app is paired with Bluebee asking the question. Bella is a very animated bear, bringing forth warmth and enthusiasm. She reinforces correct choices, but when presented with a wrong answer, does not negatively respond. Instead, she gently encourages kids to keep going with a simple "Hmmm". After a dozen or so presentations, Bella clearly lets the child know they've come to an end of the segment which is an important feature for little ones just learning to mark time.
As a clinician, I would use Lipa Bear with Bluebee in segments emphasizing one category at a time. In this way, it gives kids time to process information and generalize it to practical life.
One super feature within settings is a timer for Play – ranging from 15 minutes until 2 hours. Once the timer runs out, it turns the app off. This removes the possibility of power struggles over screen time. And Bluebee not only helps little ones play but he/she is there as a transitional object (Best Friend Ever) to help find something new to do. Bluebee is there to give you hugs and squeezes and help with new ideas for play after screen time – like a tea party, or someone to just be with you whilst looking out the window. With Bluebee by your side, every day is brighter!
Jo Booth OTR/L has been an Occupational Therapist for over 35 years, and currently practices at EasterSeals of SEPA, Montgomery County Division mainly focusing on Early Intervention. It is an APS (Approved Private School) and home outreach based setting. She has also worked in Adolescent and Adult Rehabilitation. Writing reviews have been a tremendous opportunity and experience to share and learn with others.