One Giggly Gorilla produced by Wasabi and written by Graham Nunn, is an absolute delight! Follow these primates in the sequel to Ten Giggly Gorillas which was also recommended for use with Bluebee Pals. Gameplay revolves around helping the gorillas (by counting 1-10) climb the tree to come closer to the coveted stash of bananas. This app opens with one gorilla hanging on a branch, and kids need to follow the directions given by the narrator to help each gorilla climb the tree based on novel directions on each page. The magic of giving children specific directions is that kids stay invested and involved in the story. Following the directions using problem-solving skills, sequencing, and looking for a variety of attributes helps the gorillas in attaining their goal. Everyone needs to feel useful, and by participating, kids get a boost to their self-esteem by helping this band of gorillas. And, if they didn't quite catch the directions the first time, there is a thoughtfully placed "read again" button conveniently located on the lower right of the screen. Initially, it's hard for kids to control impulses and not tap on everything   on the screen, however, One Giggly Gorilla gives kids a safe environment to practice learning to wait, listen, and then take a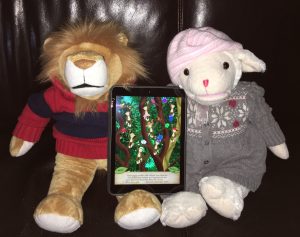 course of action. Following requests for tasks involves visual scanning, discriminating awareness, and targeting. Reading the story while positioned on your belly helps with the ability to visually converge and attend.
It's a perfect app for learning early numeracy, language skills by engaging working memory to sequence a plan of action.  Its playfulness and downright silliness is infectious – and will set off a stream of giggles that ensures repeat play. With Bluebee taking charge, it makes it easier to listen and try to sequence the needed events, because after all, he/she is the friend that helps you learn by being there. Bluebee is always in your corner, just by being present. Available on iOS.
Jo Booth OTR/L has been an Occupational Therapist for over 35 years, and currently practices at EasterSeals of SEPA, Montgomery County Division mainly focusing on Early Intervention. It is an APS (Approved Private School) and home outreach based setting. She has also worked in Adolescent and Adult Rehabilitation. Writing reviews have been a tremendous opportunity and experience to share and learn with others.