Storytelling engages memory, sequencing, and the ability to impart social and emotional sensibilities. It's through stories that we learn to not only begin to see ourselves as capable but also to take on the perspective of others. When we fall upon hard times or experience loneliness and isolation, a story can be uplifting and set the world straight. Using Bluebee Pals to relay stories or retell ones of your own making can be priceless gems to help little ones find their way. Here are some storytelling apps where your child can be the star in explaining daily routines or capturing treasured memories. Making books together provides language stimulation, modeling, but most of all the sharing of experiences.
The Apps
I Get It! by I Get It, LLC apps are a great way to introduce your kids to a variety of routines and events through personalized photo books. Most of the apps in this suite contain a book that can be read by your Bluebee Pal as is or edited to fit your child's needs by adding personal pictures, text, and/or audio. To add sound, simply tap the edit button in the bottom right. Using a familiar voice can be calming as well as having your child tune into the cadence and rhythm of a particular region's dialect. Using real photos makes apps relevant and the skills learned are thereby more easily applicable. In addition, you can create an original story of your own using family photos or use some of the stock photos supplied within the app.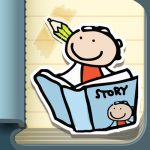 Kid in Story by Enuma, Inc. is a great way to create and share stories starring your child. The easy to use photo editing tools place your child in the pages. Kids can create stories in their own words, and never seem to tire of listening to their literary masterpieces especially when read by Bluebee. Stories can be created to support appropriate social interaction in everyday situations as well as learning sight words. Make a picture book of favorite toys or things you and Bluebee spy around the house!
Me: A kid's Diary by Tinybop Inc. is a masterpiece of blending visual and auditory cues to help kids tell their story. Me uses choice boards for animations and the ability to record thoughts and feelings concerning people and things that are important to them. This gives kids and parents a venue in which to share and learn about each other. Selected as one of the top apps of the year, it is a keeper in recording your child's views and thoughts about themselves and the others in their world.
Any of the apps above serve as a way to get parents and kids talking about their experiences. This sets a protocol of openness and the ability to exchange views as well as practice in the art of sharing and turn-taking through storytelling. Paired with a trusted friend like Bluebee Pal, it gives kids a voice. AND that is a great thing indeed!