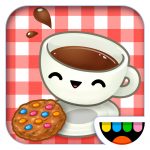 Who hasn't experienced having a Tea Party with their favorite friends? Using Toca Tea Party by Toca Boca AB it's as simple as ABC! Toca Tea Party is a classic app that presents plenty of opportunities for open-ended play based on practical life skills. The beauty of the tea party play scheme is that it teaches social mores or proper behaviors within a culture. In this app, the child controls the rhythm or sequence whilst still having the framework or structure to help guide social role-playing.  
Bluebee is the perfect friend to have over for some hot chocolate and perhaps a treat on a cold winter's day or a tall glass of lemonade in summer. He/she not only is patient and waits for his/her turn for his/her treats but is also a masterful conversationalist with plenty of funny stories to tell.
On opening, choose a tablecloth and china. The selection varies with each play, and it is a great way to practice color sensibilities as well as inviting repeat play. Next, select a beverage for up to 3-4 players. (3 friends have treats, but a fourth can act as hostess or server). After the table is set, out come the treats! If playing with your child and Bluebee, model how to make a request, such as, "May I have the fruit tart
please?" or "What a beautiful table you've set. You make a great hostess!" Once all are settled, the Tea Party begins – complete with nice music that can be changed or turned off and under the child's control. (This is a nice touch as it allows the child to experience and evaluate their own sensory tolerances.) Then, drink tea and eat treats with the tap of your finger. Requests for more are presented visually. And don't worry if a friend should have an accidental spill, it's "Whoopsie Daisy! Let me help you clean up!" with the handy napkins on the table. After stories are told, and treats are exhausted, it's time to clean up. With a tilt of the tablet or by having guests help clear the table, all dishes are in the sink for a wash.
In this open play scheme, Bluebee does not necessarily need to be connected. He/she can have conversation projected upon him, which will give your child a safe field to practice making requests and the art of employing manners. You can always use the phone feature with Bluebee, if viewing your child's play from a distance, or even have Bluebee relate a story orally during tea if connected with a storytelling app. Toca Tea Party is available on iOS. Be sure to visit their website, it is filled with amazing tips and suggestions for play.
Jo Booth OTR/L has been an Occupational Therapist for over 35 years, and currently practices at EasterSeals of SEPA, Montgomery County Division mainly focusing on Early Intervention. It is an APS (Approved Private School) and home outreach based setting. She has also worked in Adolescent and Adult Rehabilitation. Writing reviews have been a tremendous opportunity and experience to share and learn with others.