I love you-Ziggy Marley by Oceanhouse Media is a marvelous book for all preschoolers. The story and the accompanied song speaks of the depth of love within a family. Choices are Autoplay, Read to Me, Read to Myself, or Sing-a-long. Bluebee can read this upbeat and sunshine of a family story to your child by choosing the narration feature on the app, that records your voice reading the book. This is a thoughtful feature to include, especially if you must travel or be away from your family for any length of time. Knowing that your tyke can happily drift off to sleep with a story you've read is comforting for the both of you!
 

A Look Inside The App
The app is an illustration of the song Love You Too by Ziggy Marley found on his album Family Time. The graphics are fresh, cheerful and bright with a perfect mix of whimsy and self-directed teaching. This is one app to delight families and little ones and will assuredly act as a "go to" book time after time. I love how this app portrays people of all ethnicities and color – making it look and appeal to all from around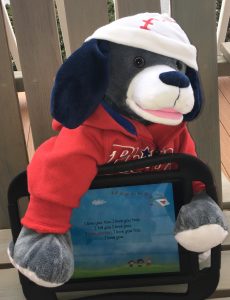 the globe. It is so hard to find quality apps with a diverse appeal that can make everyone feel loved and special for who they are.
Many of the scenes from the story are pertinent to young discoverers and are set in the basic routines that are familiar to preschoolers – playing at home, in the park, at the beach…etc. This sets up a sense of applicability and relevance in the message of the story – that no matter where you are or what you do…there will always be love for you.
Oceanhouse Media has always included teaching moments in their storybook apps through interactive play on the pages. If a child taps a flower, the word "flower" pops up to a great surprise. The Sing-a-long will get all up and hop – dancing to the infectious melody and message. And who is a better dance partner than Bluebee singing in your ear? Available on iOS and Google Play.
Jo Booth OTR/L has been an Occupational Therapist for over 35 years, and currently practices at EasterSeals of SEPA, Montgomery County Division mainly focusing on Early Intervention. It is an APS (Approved Private School) and home outreach based setting. She has also worked in Adolescent and Adult Rehabilitation. Writing reviews have been a tremendous opportunity and experience to share and learn with others.