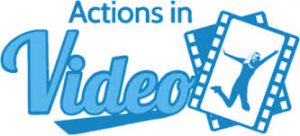 Actions in Video is a functional app that was created by Geraldine Moran, speech language pathologist to help individuals with complex communication needs build sentences for communication. This app can be used successfully with both individuals with speech and language disabilities as well as younger children learning how to combine words into sentences. Actions in Video is an app "that teaches a person to understand and use action words through the use of videos".
The app uses both video modeling and evidenced based strategies with the use of visual supports to help a child develop the skills to learn syntax, pronouns and actions. To learn more about this app and how to facilitate speech and language goals, check out my review here
The app includes 49 common action words with three videos of each action word which totals 147 videos. The videos include both children and adults with varying disabilities, cultures, etc. which makes it accessible for a variety of ages and disabilities.
Try this activity!
1. Choose one to three actions and pick a level (beginning, intermediate or advanced). Watch the video and then choose the correct symbol (depending on what level you are on)
2. With Bluebee Pal connected via bluetooth, listen to the whole sentence spoken once it's complete with synthesized (computerized) speech.
3. Let the child record their own speech! Hit play and let Bluebee Pal say the whole sentence with the voice of the child. Hearing the Bluebee Pal with the child's voice can increase engagement and motivation. Listening to the sentence can also help provide an excellent speech model for creating sentences in the correct order with the added visual supports.