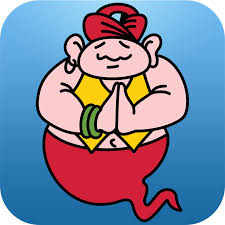 AAC Evaluation Genie is an informal diagnostic tool developed by Hump Software. It can be a valuable and comprehensive assessment tool during AAC assessment for both children and adults with complex communication needs. This app can help a clinician gather important assessment information including visual identification, visual discrimination, noun vocabulary, function vocabulary, verb vocabulary, category recognition, word association, category inclusion, category exclusion, Pixon core vocabulary unity core vocabulary, unity icon patterns, picture discrimination and word prediction.
This information can be accessed via the Data Tab within the app at any point during assessment. For more information and to access their guide, click here (http://humpsoftware.com/resources/AAC-Evaluation-Genie-Guide.pdf).
Try this activity with Bluebee Pals!
1. Make sure your Bluebee is connected via Bluetooth. Create a user on AAC eval genius by activating "add user". Create your new user name. Under tools, you can choose which skills you would like to access. When done with this part, click "done".
2. Are you ready? Start the assessment process by clicking "start". On the toolbar, chooses "all" or "screen". The feature of screening will allow you finish the assessment quicker and can be convenient when the clinician has limited to time for assessment or the individual has a reduce attention span.
3. With each section, there is voice output so Bluebee Pal Pro can give all of the instructions. Instead of hearing the voice output direct from the iPad, the Bluebee Pal Pro can become part of the assessment process.
Assessment should be a motivating process and with the use of the Bluebee Pal Pro, this process can become even more motivating and engaging for a child.