Ages 5-7
Recommended educational apps to play with your child on a tablet for Ages 5-7
As a mom of a toddler, who is enamored with cars we are slowly introducing an iPad. With my older son we introduced the iPad around the age of 3 and naturally my younger son has been interested in seeing more.  There are so many apps on the market, it can be hard to decide what is appropriate for a child and what is not.  Below are some of my kids favorites.
Reading is a fun thing for my toddler to do on the iPad.  Usually we pair Hudson Puppy from Bluebee Pals to the iPad and he can either read the story to my son via narration while my son turns the pages and interacts with them or I can sit with him while we read the stories.
---
Bluebee Pals App by Kayle Concepts LLC – Review
What we love…
Bluebee Pals app is a fun educational app which encourages kids to practice daily routines, using words to narrate what they are doing, sight words and play
Summary
Overall, the Bluebee Pals app is a fantastic app which encourages kids to learn as well as have fun. I love seeing all the different ways that my kids interact with the app and try the various activities. The app is gender neutral and allows you to pick your favorite Bluebee Pal to play along OR choose your own Bluebee Pal.
Our Rating
Bluebee Pals app by Kayle Concepts LLC is a universal app for iOS and Android. As many of you know, I have been part of The iMums for a really long time!
I'm pleased to note, that I had a chance to help design this app. The app brings BlueBee Pals to life using an app which teaches life skills such as; bathing, tooth brushing, washing hands, bedtime routines, as well as a kitchen which encourages your child to feed Bluebee a variety of meals and snacks. The app uses scaffolded learning, the first mini game is generally easier and for younger children – if you tap the arrow at the bottom you are given a more complex game for example, lining up your ABC's turns into sight words. In the ice cream mini game, first you find the Bluebee Pals and then you have to match them to the appropriate beach chairs. You can learn more about the app on the Bluebee Pals website.
Upon opening the app, you are able to select your favorite Bluebee Pal – or one that you already have. Then you can view an instructional video where you learn more about Bluebee Pals and how to connect them. From there you can enter your child's name – and while there touch each of the Bluebees to have them say their name and wave! Choose your favorite color balloon, and a favorite activity. A screen is presented with a variety of things you can do with your Bluebee Pals – did you know that Bluebee works with any Bluetooth enabled device ranging from a smartphone, laptop, smart TV, to a tablet? After that you are brought to the hub of the app where you choose a room for your daily activity – which I will highlight below.
The Bluebee Pal App
The app features narration and a variety of fun games as well. Below I will highlight each – these can be accessed either from the house hub or via the Bluebee Pals library.
Kitchen – Enter and exit the kitchen to try a variety of meal options including: breakfast, lunch, dinner and snacks. Be sure to enter and exit the kitchen multiple times so you can see each of the meal options. The recycle bin lets you recycle items as well! There are cups, plates, food and even a cake to put on the table.
Living Room – Enter the living room and tap on the various objects including the couch, iPad and laptop to hear their name
Bedroom – Enter the bedroom and see how Bluebee cleans his room and puts his sneakers away! He also uses an animated guitar, shoe typing sequence and then a bedtime routine. In this room you can also put Bluebee to bed, change the covers and then turn off the light. After the Bluebee goes to sleep, you can go back to his bedroom and tap on the objects in the room.
Bathroom – Enter the bathroom and give your Bluebee a shower. Turn on the water and then tap the sponge to wash Bluebee's fur. After getting out of the tub Bluebee needs to be dried with a bathtowel or blow drier. Then, brush the fur so it's soft and clean. After bathtime, it's time to brush teeth – kids move around the toothbrush to clean their teeth. After 20 seconds, teeth are clean and it's time to practice washing hands. Then kids can tap on the items in the bathroom to hear their names.
Playroom – This room has learning and fun! Kids can practice their ABC's and sight words, drag Bluebee through the maze, find a Bluebee on the island and match them to chairs, move cars and trucks around the track and hear their horns. Other mini games include a six piece puzzle, voice recorder so kids can record their voice — or parents can record their voice and have the app say it back. There is also a robot game where you assemble robots, dress up and match fruits to the right color balloon.
Bluebee Pals Library – Using this library you can select a mini game for the playroom. 
Bluebee Resource Section – this parental gated area requires a four digit date of birth where you can access resources including: voice recorder, activities along with app reviews, a letter from founder Laura Jiencke about Bluebee Pals. This parental gated area does contain external links.
My son loves this app – one of his favorite mini games is the cars and trucks around the track. He loves placing all the cars on the track at the same time and seeing them zoom around. As a parent, I love that the app has both an educational and fun component to it. My son will practice zooming cars, learning letters, practicing the names of foods and more! I really liked that we can show a bath routine sequence, and then follow through in real life. I also loved using the app with our Bluebee Pal Parker who speaks the narration and moves his head in time to the app. My son also loved reading with Bluebee – for a full list of items that you can try with Bluebee – look in the resource section accessed from the main hub of the house or try this link. The app contains a parental gated area with resources and external links. I find that my son is repeating words that he learned in the app – especially in the kitchen and I've even gotten him to ask for a few foods like banana as a result of seeing them in the app. Above, I have highlighted each of the individual areas and items within the app – my kids have spent hours discovering each section as well as practicing letters, puzzles, creative thinking to solve problems and more.
Overall, the Bluebee Pals app is a fantastic app which encourages kids to learn as well as have fun. I love seeing all the different ways that my kids interact with the app and try the various activities. The app is gender neutral and allows you to pick your favorite Bluebee Pal to play along OR choose your own Bluebee Pal.
This review was originally published at The iMums.
NOTE: I was involved in the design of this app.
Learning Telling Time with Bluebee Pal
Todo Telling Time is a learning and interactive app for children K-2 that helps facilitate learning of time concepts. This educational app is also very functional because it relates to the everyday concepts and also helps target various aspect of time. With this app, children will learn to tell time to the hour and minute, calendar concepts, digital time, and the parts of a daily schedule. With this app, your child can also practice placing numbers around a clock face, counting by 5s, and learning estimation.
Todo Telling Time contains six multi-level mini-games. The games include learning days and weeks in order, putting numbers in order and learning number orientation on a Ferris wheel, learning about the timing and order of a schedule, learning time with a train game, building short-term memory and sequencing skills in a memory game and a quiz that assesses your child's knowledge of time.
Connect your Bluebee Pal. Choose

from the six interactive games below. With Day the Weeks game, your child or student will be placing the days, months and numbers in order on a calendar. Let Bluebee reinforce the sequencing by saying the name of the day, month or number on the calendar. With the calendar game, your child or student can learn about time and schedules. It's 8:00 am, time for school! After your child places the hand on the right location, Bluebee Pal will tell you what time it is!
WIth the train game, your child or student or will learn digital time and Bluebee Pal will reinforce the time by repeating the correct time. With the memory game, the challenge is the find the number that was called out and shown to you briefly. Forget the number? Activate the rewind icon and Bluebee Pal will say it again!

With the

timed quiz at the end of the game, your child or student will be challenged with questions asked by Bluebee Pal such as "It's 7:00 pm. How much time until 12:00 am?". The time quiz gives you three choices that you can choose from.
Continue having fun with Bluebee Pal and learning time by navigating through different levels and finding various ways to challenge your student or child. This app is so much fun you might run out of time!….https://www.bluebeepals.com
When my older son was in kindergarten, I remember him coming home with a ring and a stack of cards to learn his sight words.  I had been working with him on reading and basic core skills to get ready for school.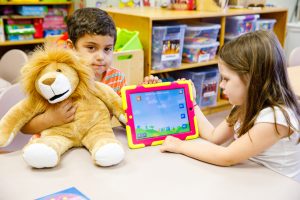 Below are a few of our favorite apps that we used when he was in kindergarten and first grade.  Each of the apps highlighted focuses on a specific academic skill ranging from spelling, geography, problem solving, reading, word families, sight words, space and more!  I am glad that these apps helped to give my son some of the tools to succeed in school.
---
Early Academic Learning Apps for ages 5-7
Spelling Hangman by Emma Mills, is a new, exciting way, to practice the spelling words given each week. I work in an elementary school and "spelling" is no longer the term used; however, a similar concept exists. This app allows a child/student to work on their given words through a more enjoyable mode. Spelling Hangman allows the facilitator to record the words they wish to be practiced through a "Configure Test" option. This option allows the words to be set up under a given name such as "week 1", or "ar words", etc. As a speech-language pathologist, I believe this could be utilized within the therapy room as well. When working with a group of students focused on a particular sound ("r", for example), the therapist could program in those words, allowing the students to try and guess words with "r" in them. Just an SLP's twist on a general education app!  Read the full review.
World Of Liberty Paintings, Planes and Pioneers  by World of Liberty.   Each of these interactive storybooks takes you on an adventure which involves the United States and a country connection to another country.  Other apps in the series include It's Raining Pumpkins in Delaware and Chicago's Green River Leads to the Emerald Isle!.  These  universal apps for iOS encourage kids to learn about history in a fun way that doesn't make them realize they are learning.  This adventure features the state of Kansas and a school field trip to the Air and Space Museum where Liberty learns about Amelia Earhart and her red Vega plane.  The characters in the story are: Liberty Lane (the primary character), her toy eagle Georgie, her toy plane Truman and her dog Ellie as they adventure around the world. Her classmates, Tobi and Mei Li are also featured at the beginning of the story during the field trip and help her make the first connection about Amelia and her flight. Each story features "read to me", "read to myself" and autoplay modes.  The app also features word highlighting as the text is read along with audio narration and background sounds.  Read the full review.
Build with Grandpa by Fairlady Media is universal app for iOS designed to help kids with a variety of building as well as teaching them about environmental re-use as kids knock down buildings, drive a construction truck and design a new home to be built. The app includes six mini educational games which require choice of equipment from a field, addition which items add up to x number, painting, decorating, designing a house and more! It appeals to preschool, toddler and elementary school depending on which things your kids like to do with the app. Skills practiced in the app include, math to number 9, literacy through reading and identifying words, design, creativity, landscaping, problem solving, cause and effect. It also teaches skills about construction and how you go through the process of building something.  Read the full review.
Professor Astro Cat's Solar System by Minilab Ltd is a fantastic app to get children excited about the great outer space. It is based on the book Professor Astro Cat's Frontiers of Space, by Dr. Dominic Walliman (quantum physicist) and Ben Newman (illustrator). It teaches astronomy in an a way that is interesting and easy to understand. The graphics in the app stays true to Ben Newman's illustrations and has a beautiful retro look and feel. Professor Astro Cat's Solar System explores the sun, planets, moon, and space travel. There are four areas of learning. First, on the left side of the screen are what I like to call fast facts. These are bits of trivia that are explained further when you click on the (+) icon beside each fact. Both trivia and detailed explanations contain only a sentence or two, making them easy to learn and remember, never overwhelming. Second, the planet/sun/moon unzips to reveal what it looks like inside For example, the earth unzips to reveal the core, mantle, and crust.  Read our full review.
Stack the States 2 by  FreeCloud Design's Dan Russell Pinson.  You learn state capitals, cities, shapes, landmarks, flags and then after you answer a question correctly you can drop the animate state on the screen – but watch out if you are not careful your hard work tumbles away!   After successfully completing each level, you earn a new state.  The app allows you to set up multiple profiles so a parent can have a different profile than kids or multiple kids can play and the app can narrate and be based on what they have completed so far.  The app includes an interactive map with major cities and a 3D visual of each state with 10 different 3D scenes with various locations – we loved New York, Hawaii and Chicago the most especially the dolphins jumping.    Skills targeted include trivia, geography.  Read our full review.
The Sounding Out Machine – Assistive Reading Device by FizzBrain is an iPad only app that helps kids who are reading to focus in on specific words that they may not know.  The app allows you to take words in three forms and then sound them out.  This app can be used with preschool through elementary school and is great for emerging readers.  By learning how to break a word down, they are more successful and ultimately that leads to more reading because it is fun rather than "something they have to do".  It presents with a screenshot of the different types of reading modes.  You also create a profile for each child so that you can track the types of "hard" words on a daily, weekly and monthly basis so you can see change over time in reading comprehension. The three modes of the app are: Camera mode – take a picture of the page of the book using your iPad; Library mode –  Take a picture ahead of time, save it on your camera roll and open it when reading; Typing mode – Type in your own word.  A great app to practice word decoding skills in a fun way that doesn't have the pressure of making a mistake in front of the teacher or let's kids practice on their own.  I have seen great improvements especially in "hard words" and my son is asking to read now rather than being "forced" to.  Read the full review.
Piiig Forest Explorer: Natural Science for Kids by Piiig Labs, is an app designed to introduce little ones to the few forest animals. It is an early science app, best suited for children up to first grade, and can be played in 8 different languages: English, French, Japanese, German, Swedish, Russian, and Chinese. The game begins with a chipmunk peacefully sleeping inside its burrow. When you tap on the chipmunk it awakens and scampers up, revealing that the opening to its burrow is a hole in a tree stump. Now it's time to explore the forest to search for food and meet some new friends. Guide the chipmunk by tapping the area on the screen you want it to go to.  Read the full review.
Wonster Words by 77 Sparx Studio is an app for iOS which teaches kids words using word families, phonics, vocabulary words and digraphs in a fun interactive way using monsters as the underlying theme.  For example, the word families for "at" include "splat", "cat", "rat", "bat".  First you make the word with letters then you see a variety of ways it is illustrated "baseball bat" or "bat" the animal.  After completing the word, you move on to see it illustrated and then used in a "real world" setting.  The app is targeted at older preschool and early elementary aged children as it captures a number of sight words and can be used by pre-reading children as well as those working on sight words. I loved when you were making words that the letters are sounded out individually as that helped my son clearly understand each of the words and the sounds that they made as well a describing what the word did.  For example, "hike" showed the word and then a nature hike.   There's a nice carry over of skills here that encourages kids to engage in a fun way and continue using the app.  I also liked that you could scroll through the app and look for specific word families to practice on – my son in particular struggles with the "th" since it's silent at times and he did well with this lesson and was able to practice the words in real time.   Read the full review.
Rhyme to Read by Rhyme to Read, LLC is an iPad only app designed to help your preschooler through early elementary aged student learn skills that will help them learn to read.  The program which does include in-app purchases  to purchase up to twenty books individually or via a bundle if you choose to buy them all at once.  The app features word families with similar sounds (cat, sat, pat) and helps children to understand different reading patterns.  Children should be able to recognize letters and understand how sounds go together before beginning the reading process.  Each book builds upon the previous one, so if you enjoy using it you should buy the package via one in-app purchase rather than buying the volumes individually as they build upon each other.  The app was originally a set of print books by Sarah Hines and Lynn Klairman, the cost of the print books was too expensive to maintain so they decided to turn them into an interactive app to help reach a wider audience. The books teach a variety of sight words and practice the previously learned sight word patterns as they progress within the series.  At the end of each "book" you can see a list of sight words listed in the program thus far (which gets longer with each book) and then a list of word families that have been learned.  Read the full review.
Get your 1st Bluebee Pal with a free app
Check out our store and pick from one of our six available Bluebee Pals