Bluebee Pals® motivate learning with educational apps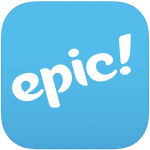 Epic! – Kids' Books and Videos
Welcome to Epic! – the leading digital library for kids, where kids can explore their interests and learn with instant, unlimited access to 35,000 high-quality ebooks, audiobooks, learning videos, and quizzes for kids 12 and under.
Epic!'s award-winning service includes a wide variety of high-quality books and learning videos from leading publishers like Scholastic, National Geographic, HarperCollins, Macmillan, Smithsonian and many more. With over 35,000 books and learning videos available now and many more titles added each week, Epic! has been called the "Netflix of kids' books" – it's an unlimited library your kids can take anywhere!
Well-known books and series include Fancy Nancy, Flat Stanley, Warriors, Biscuit, National Geographic Kids, The Chronicles of Narnia, Batman, Goosebumps, Clifford, A Series of Unfortunate Events, Goodnight Moon, Big Nate, and many more. The Epic! library contains everything from picture books to chapter books, early readers, audiobooks, graphic novels, non-fiction titles, educational books, videos and more. Epic! also now includes Spanish books and Chinese books.
---
ABC Mouse
The Step-by-Step Learning Path presents the full ABCmouse.com curriculum in a carefully designed program of more than 450 lessons in six levels. As your child completes each lesson, he or she is guided to the next one and is motivated to continue learning by ABCmouse.com's Tickets and Rewards System.
---
Speakaboos
Speakaboos helps children read, explore and discover books they love based on their interests. Developed by the expert team that brought you Blue's Clues, SuperWHY! and NickJr.com, and based on the decades of research and testing of Dr. Alice Wilder, Speakaboos mobile education platform cultivates literacy and language learning skills for children from preschool to second grade. Our storybooks features rich illustrations, animated characters, story-driven games, and touch-screen interactions that bring favorite stories to life and keeps children engaged while learning. Speakaboos can be enjoyed on computers, tablets or mobile devices at home and in schools.
---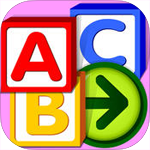 Starfall ABCs
Starfall ABCs brings each letter to life with pictures, animation, games, songs, and stories! Using a clear and articulate voice, each letter is identified by name, sounds, and words. Children interact with each letter by tapping, sliding, sorting, and dragging objects through five or more screens of engaging phonics learning. Many of the letters include real pictures as well as animations. The most exciting part of this app may be the sign language animations from the bottom menu! Starfall ABCs is a must-have app for children learning their letters, letter sounds, and beginning to read.
---
Gappy Learns Reading
Gappy Learns Reading supports young kids by building words letter by letter and sound by sound. Gappy gets lost from his home and your child needs to build 10 words to get him to his house. After building 10 words, prizes can be earned to customize the house. There are four levels in the app to accommodate a wide variety of abilities, from early learners who are beginning to work on letter identification, to early readers who have greater knowledge of how words are formed. Customization in the app includes turning on and off word sets and letter formation. This is a well-designed app for learning about letters and sounds while building words.
---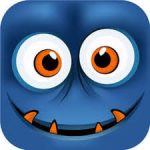 Monster Math For Kids – Games by Makkajai Edu Tech Private Limited
Math Rescue is great way to practice and test your child's rounding and estimation skills while having fuToby has to put out the fires using his special water balloon gun. But hurry! Instead of using the exact amount of water, use approximations to strike the right balance between saving water and putting out the fire fast!
---
Our digital books and games combine wonderful storytelling, rich illustration and beautiful design with magical games and activities. From early-learning to classic fairy tales and favourite characters such as The Very Hungry Caterpillar, Chuggington and Poppy Cat, we have something for children of all ages and to suit every interest.
Our goal is to entertain and educate children. We're passionate about building innovative children's apps of the highest quality that kids will love and parents can trust. Each of our apps is designed to help children learn, be that through reading, sequencing, task coordination or other pedagogical activities. We believe in sparking curiosity and stimulating the imagination with engaging activities, bringing magical worlds to life at children's fingertips.
---
Wikids
Wikids – the Encyclopedia that talks to kids! Nearly anything can be explained to kids in 80 words (30 seconds in a friendly voice). Wikids apps feature text, narration, images, and sounds, present knowledge in context and are designed for independent discovery. Wikids apps offer a wealth of fascinating knowledge for curious kids, written just for them!
---
Book App Alliance
The Book App Alliance is a new organization of industry leading authors creating interactive books for kids.  It was formed by a group of authors who found that parents and teachers were confused about digital books (ebook vs. book app), how to use them, and how to find the hidden gems in the App Store.
---
Tikatok StorySpark
From book behemoth Barnes & Noble, Tikatok StorySpark is aimed at your family's pint-sized publisher. Kids write and illustrate their own books, using a catalog of art or their own photos or digital drawings for the backgrounds. When it's ready, books are "published" under a chosen pen name and posted online at Tikatok.com.
---
Tales2go believes children must be good listeners before they can become great students. Repeated exposure to spoken sophisticated words drives vocabulary acquisition and retention, which is a key component of reading proficiency. Reading proficiency, in turn, is critical to academic success.. We stream over five thousand audio book titles from leading publishers to desktops, laptops and mobile devices in the classroom and beyond. Tales2go is used in a growing number of schools and districts across the U.S., including Los Angeles USD, Broward County Schools, Berkeley USD and Heartland AEA.
---
Montessori Preschool School Ed by EDOKI ACADEMY
Looking for an app for your child to whizz through PreK and Kindergarten? Montessori Preschool covers phonics, reading, writing, numbers, colors, shapes, nursery rhymes, coloring and even coding! It is the #1 Montessori app worldwide. Designed by certified Montessori teachers with years of classroom experience, it is a fun child-centred app, perfect for children from 3 to 7.

---
Preschool & Kindergarten Games by RosiMosi LLC
21 interactive educational games for your preschool and kindergarten kids! These games and lessons are used by millions of parents and teachers to help educate and entertain young kids. As your pre-k child progresses through the lessons they earn stickers to add to their board, rewarding them for learning and playing! This is a perfect collection of educational games for little kids. Helpful voice narrating, colorful graphics, and fun sound effects will help your pre-k child learn letters, spelling, math, and more! Designed using real world preschool and kindergarten curriculums and uses common core state standards. Kindergarten and preschool kids love these games!


---
Toca Boca is a game development studio focused on child-friendly applications for tablets and smartphones. 
They are a award-winning play studio that makes digital apps for kids and have  launched 32 apps that have been downloaded over 100 million times in more than 215 countries
---
Alien Buddies – Preschool Learning Activities by Artgig Studio
Alien Buddies is a fantastically entertaining, educational app that manages to seamlessly combine a learning experience into games that kids will want to play simply because they are fun.There are many flexible options and levels built into Alien Buddies that make it a great app choice for a wide range of abilities – Apps For Homeschooling.
---
Cubic Frog App
At Cubic Frog Apps, creating fun learning games for preschoolers and toddlers designed to empower them with knowledge while awakening their childlike sense of wonder is simply a way of life. 
---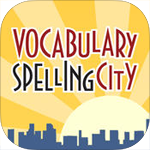 Spelling City
Teaching spelling and vocabulary is easy with Vocabulary SpellingCity!
Get your 1st, 2nd or even 3rd Bluebee Pal Today!!