Bluebee Pals® entertain with Game Apps!
Busy Shapes helps children improve their ability to handle simple objects through a series of puzzles, in which they must change simple shapes and place them in proper holes. Along the way, the app responds to each child's actions with positive guidance and motivation. Plus, the app's digital exploratory playground regularly refreshes with different objects, which keeps children interested and engaged.Are you a parent in search of an innovative way to sharpen your child's reasoning skills and awaken their intelligence, as they immerse themselves in an amazing and evolving digital exploratory playground? Then you'll love Busy Shapes designed for children from 2 years old!
---
SpongeBob's Game Frenzy
Play and collect fast and frantic minigames in Bikini's Bottom's biggest adventure yet – SpongeBob's Game Frenzy! Tap, draw, tilt, shake, drag and scrub your way through hilarious classic SpongeBob Squarepants moments to save Bikini Bottom.
Mr. Krabs latest get-rich-quick scheme is an old fortune telling machine called the Great Wumbozi. SpongeBob and Patrick can't resist playing with the machine, and when they do, they find themselves in a frantic adventure where they must win games, collect fortunes and defeat the Great Wumbozi.
---
Elmo's Monster Maker
The app features video of Elmo and a selection of faceless muppets waiting to be customized. Kids can choose from a good number of eyes, noses, horns, hats, etc., and make a muppet all their own. The created muppets will the interact and play with Elmo in real video footage.
---
Wheels on the Bus
Wheels on the Bus is an interactive version of the children's classic song brought to life on either the iPhone, the iPod Touch, or iPad. In addition to hearing the song sung in 5 languages, kids can participate in the action by touching the device's screen to make the bus roll along the road, open the doors to the bus, and even make the windshield wipers go "Swish." Parents and kids familiar with the song will delight in the new verses introduced here.
---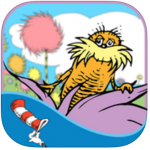 The Lorax Garden
The Lorax Garden is a colorful and easy gardening sim for young kids that is tied to Dr. Seuss's book, The Lorax. Like the book, the game carries a strong environmental message about humanity's impact on nature. Considering recent world event, the game and its backstory are likely to elicit questions from kids. Parents should also be aware that if your mobile device has an associated email address, kids will be able to send email postcards of their created gardens.
---
Deskplorers "Pirates" (Episode Two) HD
Deskplorers "Pirates" (Episode Two) HD is a fun app that blends storytelling, games, and learning, and is a stand-alone, pirate-themed episode of a larger series. There's some pirate-themed violence, but it's cartoony. There are several other themes in development as well as completed episodes, and Episode Zero is available to be downloaded for free from the iTunes store. The game has three profiles for the family with more than one child, as well as a parents section that explains how the game works.
---
Frogger: Hyper Arcade Edition
Frogger: Hyper Arcade Edition is a bundled version of different versions of the console classic. The game features plenty of new modes, but they're all basic variations on the familiar quarter-gobbler. There's no multiplayer mode, so parents don't need to worry about children talking to strangers. Players can share high scores via the Game Center social network, but participation is optional.

---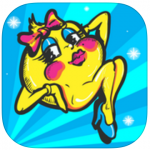 Ms. Pac-Man
This is a faithful adaptation of the original Ms. Pac-Man arcade game from the 1980s. It is a maze game. For those who grew up playing it, it is just as simple and/or challenging as you remember it, but it will cost you far fewer quarters. 




---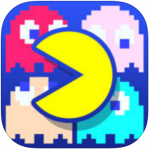 PAC-MAN
This mobile-app adaptation of the classic PAC-MAN arcade game is very faithful to the original. Players using an iOS device can share high scores via the Game Center social network, but participation is optional.
---
vast ye, me hearties! Set sail with Captain Rose and his motley crew for a thrilling adventure on the high seas. Solve piratey puzzles, battle mythical sea monsters, and dig, dig, dig for buried treasure. Arrrgh! Ye landlubbers will need to become brave pirates on the Island of Gems, which be full o' mystery and peril. There be erupting volcanoes, islanders to outwit, and giant monsters patrolling the seas. Shiver me timbers!
---
Boost your child's brain power and intelligence! Thinkrolls is an award-winning logic puzzle game that helps young kids develop reasoning and problem solving skills through a delightful and engaging gameplay. Get it now and let your little geniuses amaze you with their mental abilities and logic skills!
---
Thinkrolls Space is a child-friendly puzzle game that's out of this world. Colorful heroes boldly roll where no Thinkroll has rolled before, in over 200 mazes set across seven unique planets.
---
Coco is an educational games program, featuring multiple brain trainer activities such as kids puzzle, kids math games featuring mental math and brain training games for kids. Suitable for children from 5 to 10 years old, Coco – Educational Games For Kids 2019 offers an educational break to ensure optimal mental health in young children.
---
Our ever-expanding world of kindergarten learning games, books & kids videos was developed by learning experts to help kids aged 2-7 develop the skills they need for life & we don't just mean math & literacy…
Get your 1st, 2nd or even 3rd Bluebee Pal Today!!