Occupational Therapy Apps
Bluebee pals® enables fine motor skills through occupational therapy
Occupational Therapy Apps whereby Bluebee Pal can act as a treatment intervention tool and provide positive reinforcement.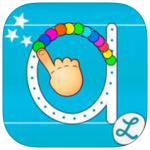 Writing Wizard: Therapeutic Functional Skills : Fine Motor skills, Video Modeling, Developmental Skills. Writing Wizard is designed to help every child learn how to trace letters, numbers and words through a fun system carefully designed to maintain motivation. Show and enforce how to trace letters correctly. Fun tracing using 50+ animated stickers, sound effects and interactive games that animate letters at the end of tracing. Uppercase & lowercase letters, numbers and words. Ability to create your own word lists (and record audio for each word)
---
My Play Home: Therapeutic Functional Skills: Life Skills, Social Skills, Imaginative play,  Emotional and Cognitive Skills. My PlayHome is a digital doll house for the iGeneration. Imagine a doll house where your child can use everything, even the closets, TV and shower. Where you can fry an egg and feed the family pizza. Where you can pour drinks, blow bubbles and turn out the lights
---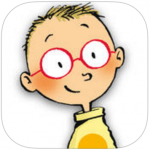 iSEQUENCES Therapeutic Functional Skills: Life Skills, Social Skills, Imaginative play, Emotional and Cognitive Skills.   An educational app for children with Autism and Asperger's Syndrome that enables them to practice 100 different sequences about everyday situations, such as: Autonomous habits like brushing their teeth, washing their hands, getting dressed or going to bed.  Fun activities like going to the beach, to the movies or do sports . Every day situations like falling down, taking the bus, going the doctor, buying bread or getting wet in the rain. Emotions like happiness, sadness, surprise or fear
---
Telling Time: Therapeutic Functional Skills: Cognitive Skills, Social Skills. 2012 Parents' Choice Silver Award winner – Parents' Choice Foundation . Discover an easy and fun way to learn analog/digital clocks. Learn to tell the time in different languages! Multiple languages all recorded by native speakers (English, French, Spanish, Japanese, German, Swedish, Russian, Dutch, Portuguese, Norwegian, Danish, Korean, Chinese and Italian).
---
Train Conductor: Therapeutic Functional Skills : Focus and Attention Span, Eye -Hand Coordination Skills. Directly control trains with your finger. Send them to their destinations by creating track connections with a quick swipe. Tap a train to stop it, tap again to get it moving. Avoid disastrous collisions, and manage the peak hour of commuter trains.
---
Farm Academy:  Therapeutic Functional Skills: Social Skills, Developmental Skills. Farm Academy is a fun and colorful iPad and iPhone app that was created by a certified speech and language pathologist for younger children (18 months–3 years or up). It targets both receptive and expressive language skills and is based on language development research.
---
Dexteria Jr. – Fine Motor Skill Development by BinaryLabs,Inc.
From the makers of award-winning Dexteria, Dexteria Jr. is a set of hand and finger exercises to develop fine motor skills and handwriting readiness. The activities are specially designed for kids age 2-6. New characters, sprite animations, music, and sound effects all add up to a fun and engaging experience for toddlers and preschool-aged children.
---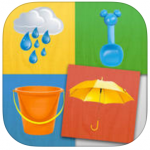 Things That Go Together by Innovative Investments Limited
Problem solving and language development are two hugely important skills in the development of any child. The goal of this application is to give parents and teachers a new interactive tool that helps children further develop these critically important skills in a fun and engaging new way.            
---
Puzzingo Puzzles: Therapeutic Functional Skills : Figure-Ground Discrimination, Social Skills, Like Skills. Kids love Puzzingo! Its puzzles are full of interactivity, animations, and sounds for many repeat plays. In addition, there is a daily preview of new puzzles that your child can look forward to everyday. Besides being entertained, your kid will build vocabulary, memory, and cognitive skills while playing. This tactile game also appeals to young kids and children with special needs. It helps kids develop spatial recognition, matching, tactile, and fine-motor skills. As for you parents, this game is designed to be playable by you and your child together, so you can participate and bond with your child
---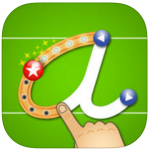 Letter School: Therapeutic Functional Skills : Fine Motor skills, Video Modeling, Developmental Skills. An Award winning app recommended by parents and teachers. Play to learn how to write all letters of the alphabet: abc – xyz and the numbers 1-10 with LetterSchool. Kids practice essential skills as they play four exciting games per letter or number.
Get your 1st, 2nd or even 3rd Bluebee Pal Today!!