Bluebee Pals® engage children with reading apps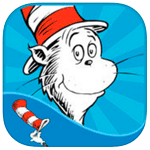 World of Dr. Seuss right to your fingertips. From holiday classics like "How The Grinch Stole Christmas!" to classroom staples like "the cat in the hat" and "Green Eggs and Ham", find all your favorites here in the dr. Seuss app catalog. Apps bring the wonderful world of Dr. Seuss right to your fingertips. From holiday classics like "how the grinch stole Christmas!" to classroom staples like "the cat in the hat" and "Green Eggs and Ham", find all your favorites here in our dr. Seuss app catalog.
Oceanhouse Media, Inc. is a premier publisher of iOS and Android apps that uplift, educate, and inspire. Enjoy beloved children's book apps from Dr. Seuss, the Berenstain Bears, Little Critter and more. Our diverse offering of inspirational apps by Hay House authors and more help you relax, heal, and reach your goals. From daily affirmation apps, oracle card apps, meditation apps and more, living a better life is just a tap away
---
You TELL Me Stories Foundation, Inc. is committed to developing an extensive multi-lingual library of interactive digital picture books that provide parents with resources to develop the read aloud techniques that research has shown makes reading aloud most effective, and are critical to the development of pre-literacy skills and Oral Language.
---
Endless Alpahabet:  Set the stage for reading success with this delightfully interactive educational app. Kids will have a blast learning their ABC's and building vocabulary with the adorable Endless monsters. Each word features an interactive puzzle game with talking letters and a short animation illustrating the definition. Before you know it, your child will be using words like gargantuan and cooperate!
---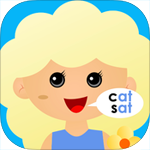 Rhyme to Read Rhyme to Read is a highly effective program for beginning readers. The program emphasizes word families (e.g., cat, rat, sat) which are color-coded to assist children in discriminating the different patterns. The only prerequisites are the recognition of letters and knowledge of consonant letter-sound connections. Rhyme to Read enables children to feel confident as they enter the world of reading.
---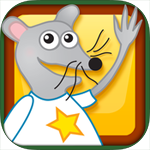 Starfall Learn To Read
Starfall Learn to Read really maximizes on the learning in a fun way. It takes every opportunity to label the letters and letter sounds. Even as kids tap on the "next" arrow, the arrow turns into the target letter and kids can hear the letter sound again. The mini-books have a nice progression when kids read them in order. For each vowel sound, there's a good mix of reading, games, songs, and videos. It would be nice to label each mini-book so that if parents and kids wanted to practice a specific vowel sound, they could easily find the appropriate book. While it's fun to see how they've incorporated some interactive elements into the activities, those who use the website will find few surprises.
---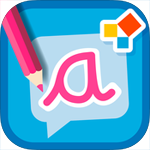 Montessori Letter Sounds
Parents and kids who already know and like the Montessori way of teaching — simple, quiet, and self-directed — will love Montessori Letter Sounds. Those who are expecting more action, noise, and sparkly graphics may not find these games as "sticky" as others. That said, there's no question that the games are age-appropriate and exceptionally well-crafted, and that the progression in which they are introduced to young kids is gently-guided-yet-self-directed learning at its best. Also, the supplemental activities that are offered in addition to the games are fun and can be played at any level.
---
Skybrary-Kids Books and Videos
Skybrary, a children's reading app, is an immersive world of discovery, with 7 magical islands, each home to hundreds of quality books and educational videos that celebrate diversity, family and the world around us. Young readers are free to explore the topics they love most as well as discover new areas of interest.
---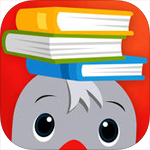 Learn With Homer
Learn with Homer is an outstanding way to get kids excited about all of the amazing things to learn about and enjoy through reading. Reading is the key! Something (and probably many things) on this app will strike a chord of interest with almost any kid. In addition to the excellent systematic phonics lessons here, there's lots of interesting content about things like frogs and world music, fiction, poetry, songs, and a free-drawing feature, so even kids who aren't quite ready to read or haven't been bitten yet by the love-of-reading bug can find something fun. The app also encourages kids to think critically about what they're learning by answering comprehension questions, drawing their ideas based on content-related prompts, and recording answers to general interest questions. The positive feedback ("Hooray and Happy Day!" and "Wiggly ears cheers!") can feel a bit over-the-top after a while. But that's about all to nitpick about this very thoughtful reading app. In many ways, reading is like entering a conversation with life, and Learn With Homer helps kids begin that magical journey.
---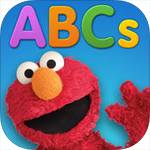 Elmo Loves ABC for iPad
Elmo Loves ABCS for iPad combines a collection of mini-episodes from the Sesame Street TV show with a variety of engaging interactive activities that are just perfect for preschoolers. Learning the alphabet becomes fun as your child actively plays with Elmo. This app uses many interactive aspects of alphabet learning including tracing, letter recognition, object association, and singing the alphabet song. The video clips give the app variety, and the two modes of play complement one another. Elmo's narration is positive and helpful, if a bit repetitive for parents. Kids who already love Elmo will love learning the ABCs with him.
---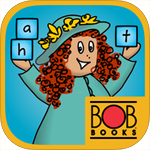 Bob Books 1
Bob Books #1—Reading Magic is an excellent introduction to phonics for young children, or a nice companion to the printed Bob Books (a systematic method of teaching kids to read). Since you can either control the difficulty level or set it to Automatic, this app will grow with your learning child, and keep their interest as they read and re-read the sentences on each page. The artwork is simple, just as in the printed Bob Books, but the added elements of color and animation are well done and attractive.
---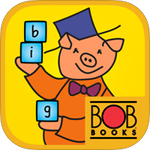 Bob Books 2
Bob Books #2—Reading Magic HD is an excellent literacy app that teaches early reading in a gentle, interactive way. Kids slowly become more comfortable with letter sounds, reading short words, and spelling as they go through the 12 pages on each of the four levels. The artwork and feel of the app is the same as for the printed Bob Books, with the addition of soothing colors, fun animation, interactive games, and a gentle voice.
---
EPIC 
Epic is the leading digital reading platform for kids 12 and under! Our fun, kid-safe, interactive reading app fuels curiosity and reading confidence by letting kids freely explore their interests, with instant, anytime access to a library of thousands of books, audiobooks, learning videos and more.
THE EPIC LIBRARY: Our award-winning platform offers a huge variety of titles for kids 12 and under from leading publishers like Scholastic, National Geographic, HarperCollins and more. With tens of thousands of books and learning videos (and counting), there's something for every age, interest and reading level.
---
Montessori Crosswords for Kids
First, the app helps kids understand that words are made up of sounds or phonemes (phonemic awareness). For each word, your kids can touch the empty rectangles where letters must be dragged to complete the word, and hear the sound the corresponding letter produces. Secondly, the app helps kids memorize the phonics associated with letters by providing a phonics-enabled alphabet where kids can touch each letter and hear the associated phonic.
Based on the proven Montessori learning method, Montessori Crosswords helps kids develop their reading, writing, and spelling skills by building words from a set of 320 word-image-audio-phonics combinations using a phonics-enabled movable alphabet.
Get your 1st Bluebee Pal with a free app
Check out our store and pick from one of our six available Bluebee Pals