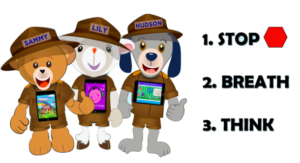 Remote schooling using the virtual model is hard! My son is a first-grader and lost part of the last school year when schools closed due to COVID-19. He struggles with telling time, staying on task.
Timers: We have tried using Alexa to set timers. I also like the visual timer in Time Timer (iPhone, iPad, Android) because it provides both a visual and timer you can use out loud. Time Timer app is currently free as of the time of this post.  It's great because you can set it up in advance with timers, to make your child more independent.  It also provides a visual cue with the red shrinking as time counts down to completion.  I find this app especially helpful when it's break time, lunch/recess time during remote learning to provide a visual for my son as he tries to figure out how much time he has left.  In addition to the visual, it also displays the time.  We also use this during independent reading (10 minutes) to make sure when my son takes his eyes off the screen, that he comes back to his virtual learning on time.
Bluebee Pal to Help During Schooling: He especially enjoys using Hudson the Puppy and Sammy the Bear. He can use it as a sensory item or we can Bluetooth it to his Chromebook or iPad to speak the words in the classroom. Other families have used a cardboard poster board or a box to help them set up a school "environment" for their children.