I am an occupational therapist in New Jersey who, through my colleagues and research, discovered the Bluebee Pals Project. I currently work for Parsippany Troy-Hills School District in New Jersey, which includes ten elementary schools with various special education classrooms, ABA programs, preschool disabled programs, and many more.
Our school district is currently enrolling students for in-person as well as virtual schooling. The Parsippany Troy-Hills School District is a K-12 district with fourteen schools serving approximately 7200 students in ten elementary schools, two middle schools, two high schools, and an adult education center. The community served by the district is ethnically, culturally, and linguistically diverse. https://www.pthsd.k12.nj.us
As a therapist, my responsibilities include treating my students both in-person and via
teletherapy. I have been struggling to create new and engaging sessions for my students. After researching Bluebee Pals as an assistive technology tool to utilize in my sessions, I focused my efforts on an opportunity to receive a donation from the Bluebee Pal Project for our special needs classrooms containing a large population of children with autism. Thinking outside the box versus conventional educational channels is essential when working with special needs children at an early age. Bluebee Pals ability to connect with children is an effective and affordable educational tool that perpetuates positive results in communication and literacy
The Bluebee Pal Project donated 8 Bluebee Pals to our occupational and speech therapists for ten districts to implement in school and remote therapy. The Bluebee Pals website provides a host of practical resources for educators and therapists on their tutorial page and free educational materials to promote user-friendly applications. The Bluebee Pal Project collaborates with schools and organizations by requesting feedback through testimonials, blogs, videos, and photos to share with educators, therapists, and parents.https://www.bluebeepals.com/tutorials/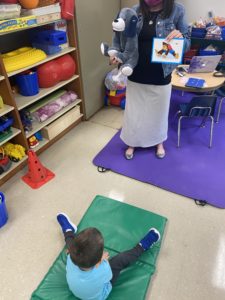 Specifically, I have started using Leo the Lion with my preschoolers with disabilities and see the incredible results with engagement in our programs. Our therapists will contribute feedback through testimonials and share it on our social media platforms in the coming months. We are honored to be a participant in the Bluebee Pal Project and grateful for this special gift to our students!  
Kendall R. Edwards, MSOT, OTR/L
Parsippany Troy-Hills School District
Follow our Instagram- @Parsippany_OT