Let's face it. The world is in crisis mode right now! The COVID-19 global pandemic has changed our lives for the foreseeable future. As of the end of April 2020, 3,275,475 coronavirus cases have been reported worldwide, with 1,078,476 cases reported in the United States. Medical professionals are fighting daily to save lives while families remain unable to visit their loved ones. Businesses are closed with many employees out of work or furloughed. Families are trying to manage staying at home while working remotely AND educating their children who are unable to go to school. A household full of people "Zooming" (the crazy popular video conferencing tool being use for everything from staff meetings to happy hours), trying to work, trying to learn, trying to cook and clean is enough to break any of us!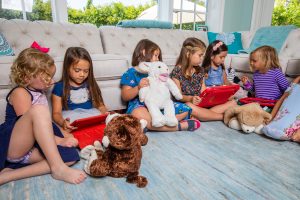 Our children are affected too. They can tell that things are not quite right and that the adults in their lives are stressed. They hear us talking about the virus, or "big germ" as some moms have nicknamed it, and may not understand why they must #stayathome and #keepadistance! More time at home with this heightened level of stress can inevitably lead to increased anxiety for our children. You may be noticing more whining, tantrums, and sibling rivalries no matter how attentive you are trying to be. We are social beings that thrive on interactions and variety. Living this way is HARD!
Thankfully, organizations are providing FREE access to some amazing educational and fun resources. Bluebee Pals work exceptionally well with these activities via Bluetooth connectivity. Check out the list below and connect your Bluebee Pal today!

YouTube COVID-19 Videos for Kids: 
-Children's National Hospital Kid's Video Guide to Coronavirus https://www.youtube.com/watch?v=gxwslU2eGH0
-Easing Children's Coronavirus Anxiety: A Social Story https://www.youtube.com/watch?v=SB_s3KnVdv8
-Explaining Social Distancing to Children Meet the Helpers: https://www.youtube.com/watch?v=fPrYN0C3Kvw
-UM-NSU CARD's Let's Talk About the Coronavirus Whiteboard Social Narrative Video: https://www.youtube.com/watch?time_continue=9&v=xkZ23tDzN4c&feature=emb_logo
– Wash Your Hands Dance with Baby Shark https://www.youtube.com/watch?v=a1IWWXZkHzY
Educational Sites:
-Epic! Is offering options for FREE to keep students reading at home 
-BrainPop Offering FREE BrainPop access for anyone impacted by school closure: https://www.brainpop.com/health/diseasesinjuriesandconditions/viruses/
-Sirius XM: Offering Free music streaming until May 15th
-Audible: Offering free streaming audiobooks for kids of all ages 
– TeacherswithApps: Educational multimedia tools resources for educators and parents. https://www.teacherswithapps.com/
** Bluebeepals.com: Free App, Lessons Plans, Book, Activity Guide, and Tutorials.  http://bluebeepals.com
Not only can you connect your Bluebee Pal to read and sing along with any of these resources, but our plush friend is there for hugs and cuddles too! Hug your Bluebee Pal today for a break from the COVID-19 emergency we are all dealing with. Bluebee Pals and Kayle Concepts are thinking of you during this time!http://bluebeepals.com