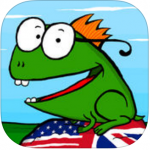 Boo Articulation Helper-Train Speech Sounds:
 For the child who is having difficulty producing single consonant sounds, this is a fun, easy to use app that your young child will enjoy. Boo the frog will help you practice speech sounds, then help you practice them in the initial position of syllables. Select a sound, drag it into the sound box, and Boo will say it for you. As he says the sound, his mouth moves and shows the user how to make the sound using tongue and lips!  You can play the sound fast or slow, and have Boo repeat multiple times for auditory bombardment and visualization. Now, Choose an ending vowel sound to create a syllable, and Boo will blend the sounds for you to practice.  Your child can record and playback practices!  For even more fun, pair your favorite Bluebee Pal with the app and he can be the teacher as he speaks for Boo!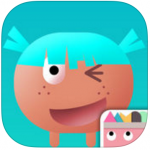 Thinkrolls Logic and Physics Puzzles for Kids:
If you haven't tried this app yet, your kids will be in for an A-"maze"-ing treat! It will keep them engaged for hours of play….and the best thing about it is that not only will they have fun playing, they will be building thinking, logic, memory, and problem-solving skills at the same time. The app features delightful characters who kids must maneuver through physics-based tasks to complete a puzzle maze. The completion of one maze leads to the next!  If you make a wrong move, it's easy to start the level over without losing your place! There are plenty of levels, and each one builds upon the next.  Levels include cookies, crates, balloons, rocks, jellies, fire, and elevators. There are unlimited trials and no penalties during play.  This app is totally 100% irresistible! My students love it! Plus, there is also a Thinkrolls 2.  Your kids will want both!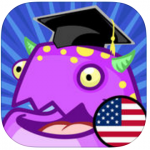 Feed Me! (US English) – PencilBot School Pack by Edutainment Resources, Inc.
Feed Me offers lots and lots of fun comprehensive practice in basic preschool and kindergarten foundational skills! Featuring 34 concepts and over 40 skills, along with 600 questions,  there is something for everyone! Players feed a cute little monster the food he is thinking of, and then watch him gobble it up! Practice math, letters and sounds, opposites, rhyming, feelings, animals and their homes, weather, healthy habits, colors and shapes, and more!  Connect to your Bluebee Pal and he can make the gobbling sound! There are so many subjects to choose from and to explore. Plus, progress is tracked for you!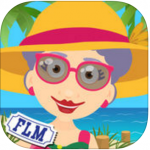 Grandma's Beach Fun by Fairlady Media:
Nothing says summertime like a trip to the beach, either real or imagined! Join Grandma and take a summer adventure! Play 7 educational games!  Beach Gear, Airplane Rhymes, Beach Art, Umbrella Matching, Coconut  Math, Word Find Puzzle, and Tide Pool Critters! Waterski with Grandpa, create a fireworks show, and watch videos of beach wildlife and water sports! Enjoy lots of fast-paced fun while learning! Connect with your Bluebee Pal, who can play Grandma!