Welcome To Becca Eisenberg Speech App Reviews
Becca provides insight into apps for speech and learning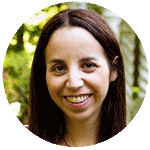 Rebecca Eisenberg, MS, CCC-SLP, is a speech-language pathologist, author, instructor, and parent of two children, who began her website gravitybread.com to create a resource for parents to help make mealtime an enriched learning experience. She has worked as a specialist in area of Augmentative and Alternative Communication for over 15 years serving both children and adults with varying disabilities in schools, day habilitation programs, home care and clinics.
Becca currently works as a speech language pathologist on the tech team at the Westchester Institute for Human Development in Valhalla, NY.
Apps for AAC
Literacy
Speech and Language Apps
Cause Effect Apps
Are you looking for some fun and user-friendly speech apps to try at home with your Bluebee Pal? As an app reviewer, I have reviewed many apps that are easy to use for parents at home to help facilitate speech and language. To see all of my app reviews, click here. I...
read more
Get your 1st Bluebee Pal with a free app
Check out our store and pick from one of our six available Bluebee Pals