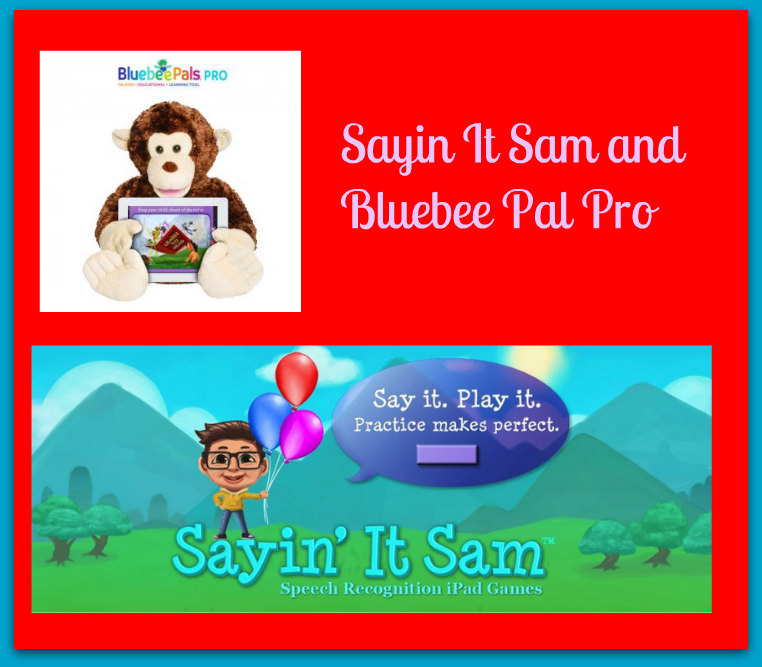 Sayin It Sam is a unique speech therapy app that was created by a hard working and dedicated mother, Nea Handscomb who wanted to create an app that would help children who struggle with speech production. The app has some wonderful features and is free!  When you start the game you have two free choices and then four locked choices that you can purchase via in app purchase for $1.99 each. The free choices include shapes and colors. When you activate the buttons, a young child's voice named Sam says "Let's play!" The next direction is to "say a color". If you try to press on the shapes, nothing happens. It's only activated by speech production which is ideal.
Throughout the game, a child is asked "What color is it?" throughout each category and after your child verbalizes the color, something happens (e.g. bird flies, balloon pops, dog barks, etc.) Throughout the game, your child will get words of praise to help encourage speech production. The app is colorful but not overstimulating which is ideal for many different types of populations including children with autism, sensory processing disorders, apraxia of speech and those children with speech and language delays.
This app is ideal to be used in a quiet environment where there is not too much extraneous noise around you. This is an ideal app to use at home or in a pull out therapy session. To learn more about Sayin It Sam app, visit her website here.
Let Bluebee Pal join the fun! -Say it Sam App
Connect Bluebee Pal Pro to your Bluetooth on your device.

With Bluebee by your side, your child will get encouragement from Bluebee Pal! Bluebee Pal Pro can also help give instructions to your child, which will in turn work on one step directives.

Bluebee Pal Pro will also be asking "wh" questions such as "What color is it?" if connected which can also help target answer "what" questions. Bluebee Pal is fun and effortless in connecting so let Bluebee Pal help meet those speech production goals with you! 
Are you looking for more speech production apps? Check out Speech Blubs review here with tips on how to use Bluebee Pal with this app.