Applied Behavior Analysis (ABA) has become widely recognized as the most effective treatment for autism spectrum disorder.  ABA therapy follows a comprehensive treatment plan to produce socially significant improvement in behavior, while decreasing problematic behavior related to symptoms of autism. ABA teaches children how to learn from their environment, a skill that their typically developing peers already have. Bluebee Pals are a great tool for teaching children to learn from their environment. Bluebee Pal's engage children in learning in a way that is fun in motivating, providing a unique way to present learning opportunities.
 Bluebee Pals can be used for teaching individual skills and group social skills. The speaker function of Bluebee Pals help children to build speech skills, as they learn to echo words or respond to verbal prompts given by a Bluebee Pal. Children can develop receptive language skills by following directions given by a Bluebee. Since ABA is intense by nature, we're constantly looking for the best ways to keep learners engaged. Creating an environment of engagement is a way ABA professionals help children succeed. Bluebee Pals provide a unique, engaging ways to teach skills.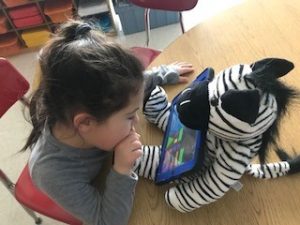 ABA programming is teaching children self-regulation and social skills that will help them to be successful throughout life. Bluebee pals help children through hands on learning experiences. Bluebees can be used in social skills group by using the speaker feature to share a fun story that teaches a lesson about sharing. Children can be more engaged in the lesson, by using the Bluebee to prompt intraverbal responses throughout the story. After the story, children can then engage in a social skills activity that involves taking turns with the Bluebee.
 Adding individualized support to a child's natural environment helps a child learn in a way that is similar to peers. Bluebees Pals are a great tool for adding extra support by turning everyday experiences into fun learning opportunities. Additionally, Bluebees are a great tool, as their individualization allows them to be a learning tool throughout many stages of development. Bluebee pals add to ABA programming by creating unique ways to keep children engaged in intensive learning.
LAURA HOWENSTINE, MS / Project Manager 
BIERMAN ABA AUTISM CENTERS / www.BiermanABA.com