In Part One, we learned about the preliminaries for introducing a Tablet into play.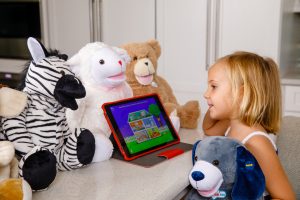 Without these two skills in place, time is wasted on trying to recover ground and what is being taught doesn't always stick. Many children have these skills in place at two, but children grow and develop at different rates – with different strengths and weaknesses. Don't push if your child rebuffs technology – their systems may not be able to handle it yet. Bluebee offers many non-screen options for play and can often be a bridge or transition into higher learning tasks. Try starting with music and dancing, stories, and of course conversations.
The ability to sustain point and follow simple commands. To begin to play some of what we perceive as "learning apps" such as those that teach basic skills as ABC's, numbers, and/or learning to print – kids must have the basic in-hand skills of being able to sustain a point. Many kids begin to point with their thumbs or middle fingers because they receive more information from their body as to where those fingers are and what those fingers are doing. Other kids begin to point with their fingers splayed and haven't quite learned to tuck the remaining fingers in yet. These are all variations on learning this skill. To refine or shape this skill further, take advantage of the opportunities to model or demonstrate pointing when looking at books or other things in the environment. This facilitates not only the ability to visually shift between intended objects highlighted by a point but more importantly, it conveys communicative intent.
For children to begin to play learning applications on tablets with more detailed content beyond cause and effect, they must also be able to swipe, tap, and drag and drop objects on the screen. This requires eye teaming, the ability to visually shift from one point to another, and coordinate hand movements to swipe, drag, or drop objects on the screen accurately. In addition, gross motor play with weight bearing on the hands will help develop the intrinsic hand strength needed for more complex demands from apps.
Recommended Apps for your Tablet 
Cubic Frog Apps are a favorite of Bluebee Pals. They have a number of early learning preschool apps and apps surrounding the routines of toddlers and preschoolers. Not every app has to be academic in order to learn from it, and Cubic Frog does both in a bright happy palate. Sometimes apps that have the emphasis on daily routines or play patterns can help kids hone their skills in a less stressful environment. Cubic Frog apps are an excellent choice for learning to wait, listen, and follow direction.
Dr. Panda School is a delightful introduction to the routines of school and is amazingly easy to navigate for early learners. A newer version of Dr. Panda School is included as an IAP in Dr. Panda Town and is well worth checking out. All aspects of school life are included including a playground! As always the characters in Dr. Panda are diverse. What I love about Dr. Panda apps is how they facilitate language by kids beginning to make their own narratives when interacting with the characters.
Edoki's Montessori Preschool is a comprehensive preschool curriculum. It not only includes new content monthly but also highlights content from their stand-alone apps as well. It is subscription based and can be used until your child masters the lessons and is ready to move on to more complex challenges. What I adore about Edoki is that their the mini-games are ripe for off-screen application. By carrying over activities into real life, the lessons are relevant and meaningful. Play in the subject areas (math, literacy, arts, and practical life) are adaptive – meaning the level of difficulty is adjusted to the individual child. This sets the course for a lifetime of the love of learning.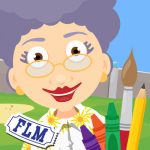 Grandma's Preschool by Fairlady Media is a gem of an app, and sure to calm even the most hesitant kid about attending school. Grandma just resonates with a gentle but silly style that never fails to get kids engaged. The app is stylized as an open playground and kids can explore at will. Included are 11 interactive minigames plus video of what real kids learn at school is a valuable bonus in making the classroom tangible.
Sago Mini Puppy Preschool is a hands-down favorite with the kids I see. Loaded with 4 mini-games that teach learning to count, shapes, matching/sorting, and music play. Playing with rhythm and sound helps little ones learn to coordinate their auditory and movement systems and is often thought to help kids with math skills later in life. And for kids learning a language – Puppy Preschool teaches kids to count in 15 different languages! The app doesn't have so much in it that it's overwhelming – and the content and length of the games are perfect for the intended age group. The characters in all Sago apps are delightfully engaging with their expressive features and they are always "Who they are" – puppies are puppies and cats are cats – complete with barking and meows.