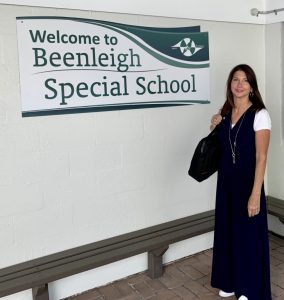 Beenleigh Special Needs School in Australia received a visit this month from Laura Jiencke founder of Bluebee Pals after they purchased the first Bluebee in Australia. Laura received a wonderful reception from the principal, assistive technology coach and teachers. Bluebee Pals were applied in conjunction with AAC Devices in every classroom to engage non-verbal children in communication.
Each classroom is set-up to the Australian AAC ( alternative, augmentative communication) system. AAC incorporates the individual's full communication abilities and may include any existing speech or vocalizations, gestures, manual signs, and aided communication. AAC is truly multimodal, permitting individuals to use every mode possible to communicate. Over time, the ability to use AAC devices may change and the AAC system chosen today may be a different system tomorrow. In any case, an AAC system is an integrated group of four components used by an individual to enhance communication. These four components are symbols, aids, techniques, and strategies.

Assistive Technology Coach Shannon Braithwaite presenting classrooms incorporating Bluebee Pals with AAC Apps.
 "The classrooms use AAC apps Proloquo2go and PODD/Compass. AAC is embedded into teacher practice so rather than it being utilized for specific activities, our teachers use it for all interactions they have with the students. The teachers point to symbols of the AAC system while speaking to the students. This is called modeling. The teachers are encouraged to model a range of communication functions, not just asking a question. Our teachers implement the Australian curriculum. Every lesson/ activity would be modeled on the AAC system. The students are encouraged to participate using multimodal communication (verbal responses, AAC, gesture or facial expression or a combination methods)." …..Shannon Braithwaite
Bluebee Pals were a Huge Success in all the Classrooms..