Bluebee is going to school this year and has no first day jitters. She knows Mommy will be there to pick her up afterward and is prepared to have a great year! She has a jump start on learning by using some of these great recommended apps to assist with her new classes.
  

Shapes:
The Very Hungry Caterpillar – Shapes and Colors by StoryToys is a gentle, enchanting, and elegant app. Continuing with Eric Carle's The Very Hungry Caterpillar as the main character, StoryToys has now increased the demands of play and expectations on little learners, while keeping the awe and wonder of discovery as they have with the other apps in the series. The artwork is outstanding, and something that StoryToys excels at producing. It is rich and delicious, but not so busy that kids go on visual overload and can't complete the given task.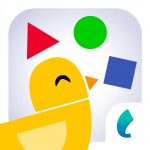 Shape Gurus – teach shapes for my preschooler by Colto is a wildly creative app that teaches little ones about shapes. Bluebee not only boosts a child's ability and confidence, he also reinforces both qualities of color and shape on each page through labeling. There are over 25 puzzles, many which are linked in theme or variation of context. This app is a sure-fire winner
Colors: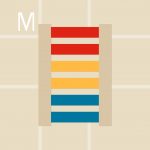 Intro to Colors by Montessorium is based on the Montessori colored tablets and scaffolds the beautiful world of color over 3 different play areas. Primary Colors, Secondary Colors, Color Shades, and Gradients teach recognition of colors. The "Paint" portion allows for open experimentation for learning color sense. And lastly is "Color Search" where a child can apply his/her newly learned knowledge. This app is clean and elegant in its presentation and uses guided activities to achieve mastery.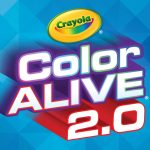 Color Alive either App 1 or 2 by Crayola are fabulous. Specific coloring books can be used by either purchasing them through IAPs where the pages can be printed or purchased anywhere Crayola products are sold. The magic comes alive when the colored pages are scanned into the app. An Augmented Reality character arises from the pages like magic! It's truly awesome, and a big hit with kids. Although Bluebee, doesn't have much to say, he is there to provide support for the shared experience!
Prewriting:
Dr. Panda Racers is a hands-down favorite, and while it is not a "handwriting" app per say, it is an excellent app to introduce a stylus, as kids mark to a pathway using both predetermined lines and following a track. There is plenty of creativity involved too – with designing your own car.
This list would be remiss without Binary Lab's Dexteria Jr. – Fine Motor Skill Development. This sweet little app truly facilitates fine motor skills in that it involves exercises for visual targeting, pinching, and their trademark "Trace & Erase" practice to ready little hands for upcoming writing skills. Created by OTs, this app works on the developmental progression of the hand as well as beginning tool use.
Math:
DragonboxNumbers by WeWantToKnow AS is a comprehensive early learning app to teach 1:1 correspondence through a hands-on experience within the app. There are 4 sections for play that reinforce what numbers are and how they are used to help place order in our everyday lives. The app is populated with "nooms" – animated characters that are proportional to their value. Each activity increases in its complexity and will grow with your child. Bottom line? It's FUN!
STEAM Activities: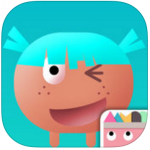 Avokiddo Apps are all excellent and help teach kids to think – something that isn't always encouraged in this day of teaching to predetermined test standards. The Thinkroll Series (1, 2, AND 3) introduces different properties of objects that double as obstacles or aids – edible crackers, balloons that pop, fans, fire and ice, and yes even black holes – The goal is to navigate your Thinkroll through a maze using all materials presented at that particular level. By doing so, you earn the right to not only more complex levels that are built on prior dilemmas but also receive additional characters to play the game. This is a game for the whole family and it's addictively fun. You'll never be able to play just one Thinkroll game.