Many parents and teachers are constantly looking for new ways to get children excited about reading. And for good reason. Reading is a large part of receiving a strong foundation during the early years of a child's education. In fact, studies have often shown when a young child is read to, it improves language skills, assists in literacy development, and has a great impact on the parts of a child's brain that are fundamental early literacy development. Trying new technology tools such a Bluebee Pal can engage a child in learning.
Bluebee

 Pal : Best Tool for Earlychildhood
Parents and teachers today have many tools that help spark an early love and desire in children to read and learn. The Bluebee Pal is one of them, and it may remind some of a classic talking and plush toy that made its debut in the 1980s.http://bluebeepals.com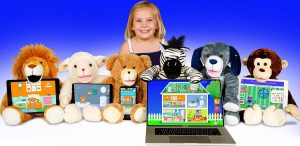 Our Bluebee Pal, better known to my preschoolers as Leo the Lion, is providing loads of educational fun, so much so that I doubt the kiddos realize they are learning as they are playing. Leo, and all Bluebee Pals, is a plush toy that syncs with Bluetooth® enabled devices.
With its built-in speaker the Bluebee Pal reads to, sings with and engages children as they learn with their favorite apps, songs and videos. The pals also have moving mouths as they talk and sing. Typically toys like this can be a bit bulky or not as plush as they appear because of the battery pack and speaker inside the toy. The Bluebee Pal is extremely soft, lightweight and huggable, making it a great toy for kiddos of any age. These are just a few reasons why reading time is bit more exciting these days.https://www.bluebeepals.com/apps-bluebee-pals/
Bluebee

 Pal : Play and Learn at Home
Whether it is to learn or to catch up on their favorite shows, my preschoolers enjoy having time on the computer and tablet. As a parent I am often concerned that the girls have spent too much time looking at screens, potentially causing damage to their vision. The Bluebee Pal has helped us to eliminate long periods of looking at a screen because the focus has turned to watching its mouth move and paying closer attention to the actual story or song. This guarantees a successful and quiet learning time.
Activity Suggestion: Storytime While traveling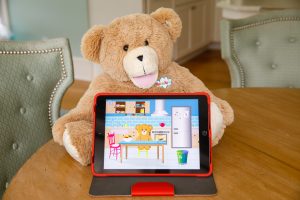 Take a Bluebee Pal on your next family trip. It can easily fit in a carryon or in a child's backpack in the car. During road time or other quiet moments, your children can stay caught up on their daily reading in a way that doesn't seem to take away from the fun being had on the trip. Bluebee Pal will occupy you child for hours reading, singing, or even playing an educational game. Let's not forget the cuddle factor that will help during nap time with their favorite stuffed animal
6 Top Reading Apps for Home or School
1. HOOPLA Book Riot has recommended this for downloading audiobooks straight from local libraries. It also has an extensive children's audiobook section, which will make for good bedtime reading or car listening.
2. EPIC! Epic provides a plethora of children's books for all ages. The app asks for parents or teachers to create an account, and allows for them to create four profiles for children readers. You do need to register an email and a password. The visuals and music contribute to a fun learning experience.
3. SIGHT WORDS App Store reviews from parents have expressed satisfaction with this app game that encourages reading and makes it fun for kids. It's for ages 4 and up, with detailed animation, background music, and great visuals. There are six games at the moment, tailored by grade. Kids can create their own profile, as either people or monsters.
4. ENDLESS READER This is meant for younger readers, ages 4 and up, to teach them words by sight. It's designed to grab attention, with fluid animation and epic music. Digital flash cards occupy the screen, with fitting animation. Kids have to assemble the words, or match them, while the game provides appropriate sound effects.
5. READING COMPREHENSION The paid version of the Peakaboo apps, there are versions for various reading levels, grades 2–8. The various bundles range from $7.99–9.99 and individual apps cost $1.99. These promise to educate children, while provoking thought with their questions about the material.
6. TEACHME This reading app comes for multiple grade levels, including Preschool, Kindergarten, First Grade, Second Grade, and Third Grade. All five apps cost $7.99 as a bundle, and the individual ones are $1.99 if a parenHomeschoolers:
HomeSchoolers Incorporate Apps into Lessons
Homeschoolers are no strangers to incorporating technology into lessons. Some days they are strategically fit into learning time. Other days technology allows us to quickly create a last minute lesson plan. Reading time, however, is rarely ever left out of the lesson plans. Having our Bluebee Pal, in addition to the variety of educational and reading apps, makes reading time both educational and entertaining.
For example, The Epic App allows parents and children to choose from more than 35,000 books, and they can read them online or offline, on the Web, or on mobile devices. Many selections are by well-known authors or from major publishers, and the collection includes Spanish/English, Chinese/English, and French/English bilingual books. Kids are able to see colorful scenes of the story on your device, as well as hear the story while it is "read" by the Bluebee Pal. Most stories in the app are not free, but the app offers a few free ones to begin.introducing phonics to beginner readers.
Introducing Phonics to Beginner Readers
The Bluebee Pal is also a great tool to use while introducing phonics to beginner readers. Words on a page may be intimidating for some, so incorporating videos from your favorite educational channels like these can assist in boosting a child's confidence as well as introduce the necessary skills to begin reading. Kids can enjoy story time without a parent's help, which is great for the little ones who can't quite read and great for parents who need to buy a few moments to prepare for the next activity
Encourage Activeness by Listening to Music and Dancing 
Encourage activeness by listening to music and dancing with the Bluebee Pal.Kids (and parents alike) need a time during the day to step away from the learning. Turning on music and encouraging dancing and movement is exactly what is needed to get re-energized, or in some cases, burn some energy to continue the time of productive learning. The Bluebee Pal has a quality speaker, and its volume is easily controlled by the device
Use in The Classroom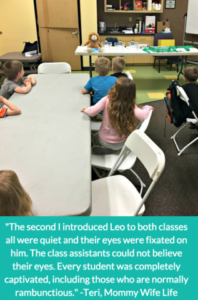 Using videos to dig a little deeper into topics is typical for homeschoolers, and it is no different for the classroom. I am visual learner, so I tend to teach my children with many visual examples. Once a week I teach a co-op class, and this past session I taught basic science concepts to 29 four and five-year-olds. During our weather week, I introduced the concept of seasons with a video and a song with the help of our Bluebee Pal.
Teachers of children of that age group know how challenging it can be to keep the kiddos quiet for long periods of time. However, the second I introduced Leo to both classes all were quiet, and their eyes were fixated on him. The class assistants could not believe their eyes. Every student was captivated, including those who are normally rambunctious.
Activity Suggestion for Teachers:
Give students a chance to earn a reward of holding the Bluebee Pal. Students will quickly become attached to the new classroom pal, so offer the privilege of holding the Bluebee Pal during reading time as a reward for good behavior throughout the day.
Learning with Leo has been both enjoyable and beneficial for my children and students. Check out more about the Bluebee Pal here and see which pal your child would most love!http://bluebeepals.com