The Down Syndrome Foundation of Florida is a non-profit organization dedicated to providing creative
programs and partnerships to facilitate opportunities for people with Down syndrome and their families. They offer innovative services including iCan! The Learning Program focused on providing parents with the tools to strengthen the educational potential of their child. Developed by Dana Halle, founder of the Down Syndrome Foundation of Orange County, the program consists of monthly workshops for parents and their children with Down syndrome. The caregivers learn how to teach reading, introduce math and create effective learning session. https://www.bluebeepals.com/about-us/
While the parents are hard at work, so are the kids! Alaine Miller, a partnering speech-language pathologist, runs the children's sessions during this 9-month program. Alaine found another partner to join the mix as well. You guessed it – Bluebee Pals! The Down Syndrome Foundation is a Bluebee Pals Project donation recipient and the kids have been having a blast with their new cuddly friends!
Alaine uses Blubee Pals to Model Social Skills, Speech-Language Skills, and Positive Behavior.
Using voice recordings, text-to-speech apps and educational songs, the children interact with Bluebee and their friends each month. Greetings, turn-taking, appropriate sitting, encouragement and listening comprehension are just some of the things Bluebee assists the students in learning. Alaine stated that the educational tech tool has "maximally increased engagement and progress" amongst her students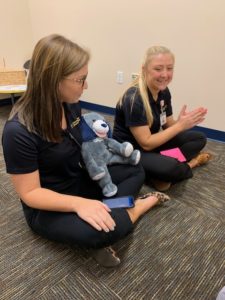 "The children were eager to interact with Bluebee and thought it was great to answer a question Bluebee asked. They also loved hugging Bluebee and giving him high fives when they were working hard!"
The children of the iCan! Learning Program also helped Bluebee by fix any silly mistakes he made – "allowing the children the opportunity to correct him, which they thought was silly and fun"!
iCan! The Learning Program is filling in much needed gaps in the education of children with Down syndrome and providing essential parental support. Check it out along with the numerous other services provided by the Down Syndrome Foundation of Florida here: https://dsfflorida.org