Laura Jiencke, Bluebee Pal creator is at it again – making meaningful connections with educators everywhere she goes! She recently attended the International Society for Technology in Education (ISTE) 2019 conference in Philadelphia and met Melissa Stark, a special education PreK teacher in New York City.
"As a special education teacher, you are always looking for ways to help increase your student's love of learning. At ISTE in June 2019, I presented on Technologically Applying the Communication Bill of Rights toAll Learners. Giving all students a voice should be a goal for us all. While walking the conference floor, I had the chance to find Bluebee. As summer school was approaching I decided to give it a try and buy one for my classroom. " – Melissa Stark
She hit the ground running and began using her Bluebee Pall in the classroom right away! "I love that my student's AAC devices can be modeled through Bluebee. I also love that my students can read books or share items they completed for classwork on Bluebee. Bluebee gives my students that voice. They integrate with so many different apps and programs. I also love that Bluebee has its own individual app that focuses on life skills such as what you do in different places in your home (i.e., kitchen, bathroom). I am so happy to have found Bluebee and cannot wait to continue using it in my classroom!" https://www.schools.nyc.gov/special-education/school-settings/district-75
7th Annual New York City Schools Technology Summit.
Melissa's desire to share Bluebee Pals with her entire district lead her to suggest they make an appearance at the 7th Annual New York City Schools Technology Summit. The Bluebee Pals were out in full force at the NYC Tech Summit where over 1,200 leaders, technology staff and teachers learn about the district's latest technology plans and priorities. As the largest school system in the nation, the NYC Department of has a budget of nearly $500 million and serves over 1.1 million students and 1,800 schools. Solutions, such as the Bluebee Pals plush educational technology tool, were on full display allowing technology and education enthusiasts immerse themselves in the lasts technology for their students! https://www.bluebeepals.com/special-needs/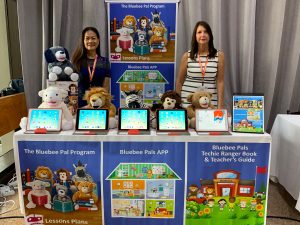 Many thanks to Melissa Stark – an exceptional teacher serving exceptional students in NYC! Keep on helping kids find their voices!