We are thrilled to announce the 5 star rating for the Bluebee Pals App by the highly esteemed Educational App Store.
Educational App Store is a discovery, review, and recommendation platform for educational apps and websites. Apps and websites are certified and reviewed by professionally experienced teachers to assist parents and educators in progressing a younger child's education. In addition, they believe in challenging the status quo of app discovery through trust and transparency. https://www.educationalappstore.com
Bluebee Pals is a mini game and activity app for early learners, pre-k, and kindergarten kids.  The app can support its associated range of Bluetooth-enabled physical Bluebee Pals, but this is not essential, and the on-screen Bluebee Pal will accompany kids as they learn.
Bluebee Pals App is free and does not restrict any of its content. There are no in-app purchase or subscription options at all. The app is available on iOS and Android devices.
App Review by EAS: What is Bluebee Pals App?
There can be no doubt that apps have captured the attention of kids. Games occupy their entertainment, and digital learning activities support their education. Anything that motivates and inspires kids is excellent, but we need to be careful that kids don't concentrate on anything at the expense of other positive experiences.
That's part of the motivation behind Bluebee Pals. The app's designers don't want today's kids to miss out on the warmth and comfort of a favorite soft toy, so they have combined a fun learning app with Bluetooth-enabled soft toys to merge the digital and physical realms.
As you'll see in this review of Bluebee Pals, the developers haven't made it a closed system. Even without extras, the app is a great addition to kids' devices for fun and learning, especially as the full app is free. http://bluebeepals.com
Bluebee Pals is a free app that can connect to a real-life Bluebee Pal plushie toy but what we really love is that this is not a baseline requirement for using the app. Even without the physical toy, the app is entirely usable.
The app has a good selection of mini games and activities popular with early learners. These have a variety of play styles and learning content. Played independently by a child, some are purely fun while others teach early skills. When an adult joins in, any of the activities can be used for developing knowledge and thinking skills. Bluebee Pals app's supporting website helps parents know how to do this. https://www.bluebeepals.com/bluebee-pals-app/
We did not use a compatible physical toy during this review of Bluebee Pals, so every feature mentioned is available to you at the app's basic cost, which is free. Of course, kids might want a Bluebee Pal after playing this app, but the choice is yours, and you would already know something about the Bluebee Pals material and how relevant it is to your kids.
What skills does it teach?
Bluebee Pals app includes learning content covering personal hygiene and daily routines, ABCs, sight words, colors, and other early learning material.
What age is it appropriate for?
Bluebee Pals is designed for kids aged 4+. The upper end will depend on your child's educational progress and any needs they might have. The app's features, including the link-up to compatible soft toys, can provide focus and motivation for kids to keep trying. The app's supporting information provided by teachers, therapists and other educational professionals describe how to do this with tutorials on the Bluebee Pals Website.
Is Bluebee Pals app easy to use?
The text within the app is narrated so that kids know what to do with each activity, and the activities are grouped by rooms in the Bluebee Pals' house. The house's playroom contains simple mini games, puzzles, and activities. The player's Bluebee Pal will involve and demonstrate to the player different routines relevant to each of the other rooms.
The app contains links for parents to help them learn how to support their child's development in general and using the Bluebee Pal's app. The information is detailed and informative as practitioners such as the app's Teacher Ambassador have created it.
The most difficult thing with anything that connects to other devices is making that connection. If you are contemplating getting a physical Bluebee Pals toy for your child, you'll want to know how easy it is. Fortunately, Bluebee Pals starts with a video explaining how to do this in straightforward terms that, if followed, should not pose a problem. Parents should watch this when they get the app to know how to do it.
How will students benefit?
Kids who just have the Bluebee Pal app will have a fully featured new app to learn with and play. If their parents are watching their spending, kids might be used to seeing their apps cut them off from some of the content, either for lack of in-app purchases or subscriptions.
Bluebee Pals app won't do this, and kids can play and learn without hitting an educational dead-end caused by a paywall.
How will parents benefit?
Bluebee Pals educates parents. Too many apps do nothing to enlighten parents on how they can use the app to support their kids as they take their first steps in learning. Bluebee Pals provides a wealth of supporting resources ranging from general education to special needs, such as speech therapy.
The supporting information works well with the app's features but also goes further with practical suggestions and guidance on how to work with kids.
How will teachers benefit?
The 'educators' tab behind the protected gateway has loads of information, ideas, and lesson plans. This is not restricted only to classroom teachers but also considers the role of homeschoolers and special education tutors.
These ideas and resources are great starting points to help busy teachers build lessons around and get the most use out of the app and, possibly, a classroom Bluebee Pal toy.
While a physical Bluebee Pal is not part of this review, it is useful to understand how they fit into the full experience.
If you own a physical Bluebee Pal, it can connect to any app on a Bluetooth-compatible device. The toy will then animate and talk as it reflects the sounds from the app. The app connected to could be the one reviewed here, but it could also be a third-party app (such as a favorite bedtime stories app) or a website.
The toy will need the app or website to include sounds or narration as it cannot add speech to an app that does not already have it.
The Bluebee Pals app and physical toy are ideal companions but not dependent on each other.
How much does Bluebee Pals app cost?
Bluebee Pals is a free app without advertisements, subscriptions, or in-app purchases. It is part of a broader ecosystem of learning resources and physical toys, but it is still very usable without any extra apps or purchases.
Is Bluebee Pals app safe to use?
All of the Bluebee Pals app content is suitable for kids of its targeted age group. While there are some external links in the app, these give parents extra information and are behind a parental gateway. Parents need to enter a valid birth year to progress into the parental area.
favorite
As a standalone app, Bluebee Pals is an exceptional  mini game app for young kids. These apps are popular with kids who love the not pressured play style of such games. The activities may seem simple and repetitive to you, but too many young kids, they are just what they want.
Other mini game apps might have more content, but it is locked behind in-app purchases and subscriptions, whereas Bluebee Pals gives you everything for free. This makes Bluebee Pals a great addition to an existing app for extra variety or as a way to see whether your kids enjoy this style of app before you do spend money. Either way, your kids will likely continue to enjoy this one.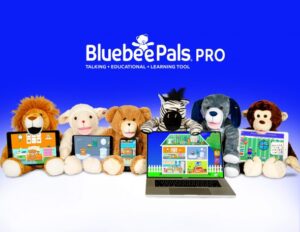 If you like the idea of your child linking their learning with a soft toy, then look at the app's supporting cast of lovable soft toys.http://bluebeepals.com