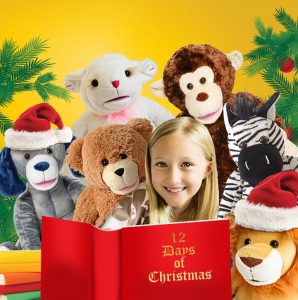 It's the season for holiday gifting! It can be especially difficult to select quality gifts for young children, and even more difficult to find gifts with excellent educational value that also have that "fun" factor! Look no further…Bluebee Pals are the perfect gift choice for children! They are uniquely suited to engage the interest of little learners, they easily support reading and educational activities, and they make charming friends! Bluebee Pals make stories come to life, encourage listening, speaking, language development, good social skills, and more! They work with any tablet or smartphone, to deliver not only hours, but also years of enjoyment. If the child on your list is also receiving a tablet for the holidays, or already has access to a tablet, a Bluebee Pal gift would be a perfect match!
Bluebee Pals Make Perfect Reading and Learning Companions!
Bluebee Pals
are softly huggable, lovable, plush interactive learning tools/toys that connect via Bluetooth to all iOS and Android devices. They wirelessly pair with all apps with a narrative, which provides endless educational opportunities and entertainment for children of all ability levels. Bluebee's mouth and head realistically move while speaking, making reading, educational apps, games, and activities so much fun! Which Bluebee Pal will you choose? Hudson the dog, Riley the zebra, Leo the Lion, Lily the lamb, Sammy the bear, or Parker the monkey? https://www.bluebeepals.com/
Benefits:
Bluebee is compatible with ALL apps with a narrative.

Bluebee inspires learning with educational apps.

Bluebee makes storybook apps come to life!

Bluebee is compatible with text-to-speech apps

Bluebee teaches language and AAC (alternative augmentative communication).

Bluebee sings with your favorite music apps.

Bluebee acts as an educational tool with voice recording apps.

With Bluebee, children become immediately more engaged and attentive, and eagerly look forward to focused learning opportunities!
Bluebee comes with a FREE companion app!
The Bluebee Pals app is a fun and easy way to begin learning through play.
In the Bluebee Pals app there are 5 colorful and interactive rooms to explore with your child: Bedroom, Bathroom, Kitchen, Living roomand Playroom. By talking about, asking questions, playing mini-games and encouraging free play, you can focus on and reinforce many early learning, educational, and life skills. https://www.bluebeepals.com/bluebee-pals-app/
Additional Suggested Apps:
Reading: Epic! – Kids' Books and Videos by Epic! Creations Inc
Voice Recording: Voice Memos by Apple. Quickly and easily record vocabulary words to practice spelling, play matching games by matching words to pictures, use the recorder to have Bluebee give instructions or ask questions, or use the recorder to sequence or retell a story.
Book Creator for iPad by Red Jumper Limited. Easily create your own books! Add music, narration, video, text! Share with family and friends.
Text-to-Speech—-Talk For Me – Text to Speech by Darrin Altman
Interact in real time with your Bluebee Pal by typing in text for your Bluebee to speak! Ask and answer questions, make up your own stories or type in the text of books for your Bluebee Pal to read. Have Bluebee help practice vocabulary by typing in words or definitions, questions, or even tests for him to say aloud.