Easterseals
Massachusetts focuses on the full potential of every person and is changing the way the world defines and views disability by making profound, positive differences in people's everyday lives. They provide essential programs and services to children and adults with disabilities throughout the state. 
Easterseals
ensures that children and adults with disabilities have equal opportunities to live, learn, work and play. Their occupational, physical and speech therapists, assistive technology specialists, as well as our youth, employment,
and
transition teams are experts in their fields and provide services in a wide range of settings.
Assistive Technology
Easterseals Massachusetts is recognized nationally as a leader in assistive technology, their services are an excellent resource for children and adults with autism who need high and low technology solutions for home, work or school in order to increase their independence.
The Bluebee Pal Project & Easterseals
"I spoke with my team and everyone is thrilled and loved your product! .Our plans are to place 2 in each AT Loan Center and then use them directly with clients and our AAC Specialists, OTs and SLPs are so excited! Bluebee Pals will be a great communication and learning tool for all the assistive technology departments within Easterseals." Kimberly Sokol: Vice President of Rehabilitation & Support Services-Occupational Therapist.  http://www.easterseals.com/ma/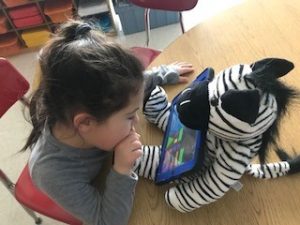 As a speech therapist working with young children, it can sometimes be hard to find ways to keep them engaged in therapy. The Bluebee Pal is a great interactive learning tool that is a fun and engaging way for the students to work on a variety of speech and language goal areas, especially when working with groups of children who all have different goals to be targeted.
The Bluebee Pal can target speech and language concepts such as making choices, categories, following directions, learning action words, expanding vocabulary, sequencing, inferencing, object function, wh-questions, articulation—the list goes on! The student's love using the iPad and seeing the BluebeePal talk to them. The Bluebee Pal is another great assistive technology tool to have in a speech therapists toolbox…Laura N. Husted, SLP-M.S., Clinical Fellow-SLP