The Down Syndrome Association of Central Florida is an accredited and award-winning not-for-profit association founded in 1991 by parents of children with Down syndrome. It has grown from a few families to over 1,200 individuals with DS and their families. They serve families in an area of over 10 counties with help from more than 17,000 friends, professionals, volunteers and other supporters. Governed by a volunteer board of directors, more than 50% of the board members have family members with Down syndrome.
Bluebee Pals and The Down Syndrome Association
Bluebee Pals have arrived at DSACF! These huggable plush learning companions can be combined with a wide range of online digital content that provides children with a great source of entertainment while assisting in education and helping to develop communication skills. These "talking tech buddies" encourage communication, language use, attentiveness, sensory processing, and positive behaviors. They add just the right touch of warmth and humanity to motivate children. The Bluebee Pals are located in the DSACF Lending Library for FREE for our members at the Success Center.
What exactly does it mean to be mindful? Mindfulness is simply paying attention to the present moment and allowing all thoughts and feelings to occur without necessarily taking action. "Stop Breathe Think with Sesame Street", "Super Stretch Yoga", and "Mindfulness for Children" are a few apps that Bluebee loves for beginning lessons in mindfulness. Children do not always need to sit or be still to practice mindfulness! They can practice relaxation by holding Bluebee Pals.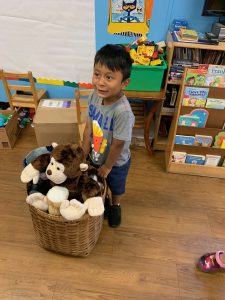 Life skills are abilities for adaptive and positive behavior that enable individuals to deal effectively with the demands and challenges of everyday life. Bluebee Pals can easily be incorporated to build essential life skills. The Bluebee Pals can be paired with story books and educational apps, which makes the learning process fun and more meaningful. The most important life skills to learn are focus and self-control, perspective taking, communication, making connections, critical thinking, taking on challenges, and self-directed, engaged learning
   Speech Therapy with Bluebee
"Sabi has been using Bluebee for 2 weeks now, when she first saw him (Monkey) she was very surprised and excited and immediately felt in love with of him. We introduced Monkey first with her favorites songs since she love to sing and dance, now we work with Monkey on her Speech Therapy sessions, we use few apps to work different things like vocabulary for example, but especially to follow instructions, which is something that its very difficult for her, she has been very compliance and we have been able to work a little more than she usually allow us." – Ory, Sabrina's mom