Bluebee Pals easily connect to storybook apps via Bluetooth to make storytelling come to life!  Your Bluebee Pal will "read" any connected story, with natural head and mouth movements!  Children become immediately more engaged and attentive!..https://www.bluebeepals.com
The Perfect Reading Match! Bluebee Pals and Epic Books
Reading to a child daily helps develop vocabulary, attending, sentence construction, grammar, pronoun usage, social-skills, turn-taking, imagination, creativity, sequential thought, emotions, wh-questions, comprehension, receptive/expressive language skills, critical thinking and problem solving, and so much more! Reading to young children is one of the mos

t

language rich

and

meaningful learning opportunities that parents (and educators) can give their children. Many natural educational interactions occur while reading by talking about the subject matter, elements of the story, questioning about the story, and through practicing story retelling.

 Epic! -Kid's Books and Videos by Epic Creations Inc. is a wonderful digital library for children ages 12 and under. With instant, unlimited access to 35,000 high-quality ebooks, audiobooks, learning videos and quizzes, kids can learn, explore their interests and develop a love of reading! https://apps.apple.com/us/app/epic-kids-books-and-videos/id719219382
"Epic!'s award-winning service includes a wide variety of high-quality books and learning videos from leading publishers like Scholastic, National Geographic, HarperCollins, Macmillan, Smithsonian and many more…Epic! has been called the "Netflix of kids' books"- it's an unlimited library your kids can take anywhere!"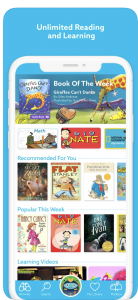 The library contains well-known books and series, such as Pete the Cat, Fancy Nancy, Biscuit, National Geographic Kids, Clifford and lots more! It offers picture books, chapter books, early readers, audiobooks, and videos. It even includes Spanish and Chinese books.
App key features include:
35,000 books and learning videos with hundreds more added weekly

Personalized recommendations for each child based on their reading level and interests

Online and offline reading (you can save books to read offline)

A reading log to track reading progress

Access to Epic! on almost any device

Includes comprehension quizzes and learning videos

FREE for elementary school teachers!!!

After a 30 day free trial, it is $7.99 a month for parents

Users can easily search according to interests

Highlighted text option

Professional narration

Filter books by reader age, AR Level, Lexile Measure, fiction

and non fiction
Pairs easily with Bluebee Pals!
*Paired together, Bluebee Pals and Epic: Motivational Reading Tools
 *Set aside daily time reading time. Find somewhere quiet without any distractions.
*Let the Child Pick the Book! One excellent way to get young children involved in the reading aloud process is to allow them to select the book you read.
*Don't Be Afraid of Wordless Picture Books! When reading a wordless picture book, ask the children questions such as:
• What do you think is happening here? (comprehension)
• What makes you think that? (inferring)
• What do you think will happen next? (predicting)
• Why? (vocabulary and oral language)
*Start Small. The younger the child the shorter the attention span.
In the beginning, choose shorter books or books that are not too text-heavy. Then, as you notice their attention spans getting longer, you can start reading longer books.
*Read It Again! Reading the same book multiple times can really help children develop language skills and improve reading comprehension.
*Read Aloud to Big Kids, too! Reading aloud isn't just for young children who can't read on their own yet. Kids usually listen on a higher level than they read.
*Explain Some New Words. Explain a few of the words your children may not have heard before – no more than half. Each time you re-read the book, you can explain different new words to build vocabulary.
*Point to the pictures and encourage your child to talk about the book. Talking about the characters and their situations helps children understand relationships and is an excellent way for you to get to know each other or discuss difficult issues.
*Give your child plenty of response time. Ask them what will happen next, how a character might be feeling or how the book makes them feel.
*Relate the story or illustrations to something your child knows. This will help them make connections to their own life experiences.
*Above all else…make reading fun and enjoy the time together with your child!