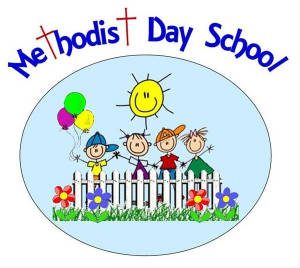 Methodist Day school (Naples, FL) offers preschool classes for students 2 years old through 5 years old. Their program is set up so that each year students continue to build on the learning blocks of the previous year until reaching Voluntary Pre-Kindergarten, which is a government-funded program to help prepare students for kindergarten. Methodist Day School was founded in 1961 under the auspices of First United Methodist Church, having the unique distinction of being the oldest preschool in Collier County.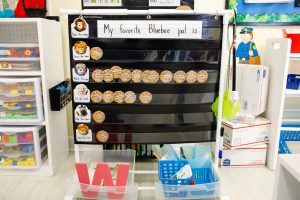 2 Year Old Class Program:  Fine motor skills, Gross motor skills, Eye/Hand coordination, Reinforcement of colors and shapes, Introduction to numbers & ABC's,Table manners, Continuation of verbal skills. Students will participate in art, dance, and group activities to help encourage learning of age-appropriate skills. 
3 Year Old Class Program:  Pre-writing skills, Number and letter recognition, Cutting skills, Gluing skills,  Language skills, Communication Skills, Cognitive Skills. Personal/Social skills such as dressing, using bathroom, and washing hands independently or with minimal assistance.  Students will participate in creative play, music, art, exercise, and games to aid in learning the skills needed at this age.
VPK ~ Kindergarten Prep Program:  Uses Creative Curriculum which includes: Math skills, Pre-reading skills with sight words, Beginning writing, Cognitive concepts, Comprehension, Communication skills, Dramatic play and Creative movement. 
Bluebee Pals Affordable Assistive Technology Tool

This school welcomes technology as a positive re-enforement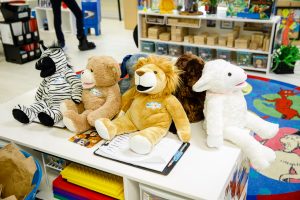 for enhancing early childhood learning. Bluebee Pals assistive technology tools  acts a the teacher's helper in engaging children in life skills and academic lessons.
In these photos, Bluebee Pal Riley the Zebra is reading the Dr. Suess App as the teacher participants by asking specific questions. In the other photos, Bluebee is representing the Bluebee Pals Educational/Life Skills App focusing on learning goals. Literacy * Daily Living Skills * Learning Actions * Expand Vocabulary *Sequencing * Making Choices * Categories. Bluebee brings joy and fun when singing to a variety of educational music apps. https://youtu.be/dRdxflMv15M
These soft huggable tactile companions offer endless education and diverse learning methods by allowing teachers to think outside the box. Engaging and motivating children to learn in a fun and low pressure setting; Bluebee's are an wonderful affordable educational tool compatible to hundreds of apps with a narrative from inexpensive free apps to more technical speech therapy apps.